App Developers in San Francisco
San Francisco – and neighboring Silicon Valley – is the buzzing hive of the global technology sector. The City by the Bay has been a center of technological innovation for decades, including the field of app development.
App developers in San Francisco have built some of the most successful mobile apps of all time. At Rootstrap, we're proud to count ourselves among the award-winning app development companies in Silicon Valley. We have a world-class team of mobile app developers. If you're looking for an app developer in San Francisco, we would love to work with you.
Our focus is to de-risk your investment and deliver you a product that will engage your users. We've developed 250+ products for 500 founders with combined revenue of 100m+. We battle-test every idea that we work on to ensure it can stand the test of time throughout market shifts and trends.

Mobile App Development in San Francisco
We are a full-service, comprehensive app design and development studio serving the San Francisco market. Rootstrap specializes in helping clients through the mobile app development process from start to finish.
Before we start coding, we help you define:
● How will this grow your business?
● What user base will this serve?
● What's the long-term plan to achieve ROI?
Our philosophy focuses on answering these core questions first, letting us structure development to create real returns and sustainable growth. You're on a journey, we're the life raft



Aggregate Product
Downloads

Highest Company Valuation

Mobile App Design in San Francisco

At Rootstrap, we focus on making design and development decisions strategically. Our guiding principle is to create a mobile app that will help you take your business exactly where you want it to go.
To us, the only way to successfully develop a mobile app is to start with a deep understanding of how the app fits into a larger business.
To achieve this, we designed our Discovery phase to perfect the idea and validate the app concept before investing real development money.
Through Discovery, we answer questions like:

What is the need?




Who is the target audience?

What core benefit does this provide to users?
Answering these questions at the beginning guides the development process and ensures we're going about the app design process the right way.
By honing the concept and validating the idea in the marketplace early, we can head into the development phase, understanding what we need to build to satisfy users as quickly as possible.

Product Development Process & Deliverables
When a San Francisco client comes to us with an innovative new app idea, we don't wait around. In fact, our records show that we get up and running in just 12.4 days.
Here's how we successfully operate from Discovery to launch: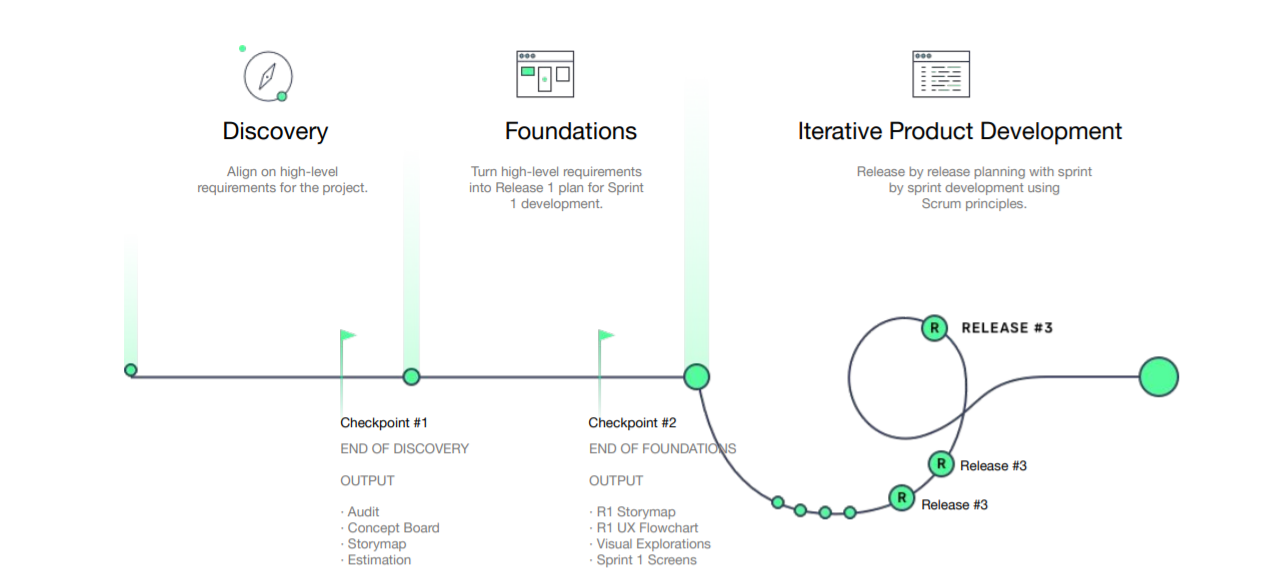 Agile Software Development
Once a project is underway, we work in a strict Agile environment, with the following planning and review meetings at the beginning and end of each weekly sprint.
Every week starts with a meeting to prioritize goals, all based on your new customer demands, or previously planned cards.
These quick rapid-fire meetings ensure we're on the same page, so we're always in the loop of the development process.
To keep things running smoothly, our design teams work with you each week to create and approve designs needed for weekly sprints.
We'll start each week with a short-minute meeting that helps set the agenda for the week to manage expectations.

iOS, Android, Rails - You name it, we support it.

We'll put our heads together to help you flesh out your ideas and strategies.

Strategy beyond the CMD line
We help clients with ideation, customer validation, launch plans, and beyond.

The Best Mobile App Developers

in San Francisco
The Rootstrap app development team consists of more than 60 full-stack engineers, a host of world-class app designers, and a highly skilled team of business and product strategists that will help you create a realistic plan to monetize your app.

We're a full-service app development shop that goes beyond just building the product: we'll help to craft a plan for a sustainable, thriving business after the launch date.
We're online when you are, we work on your schedule, and if you need to hit the turbo button, we have the resources to do just that. We want you to win.

Our Technical Capabilities


React Native Developers in San Francisco
If you are on the lookout for the best React Native Developers in San Francisco, Rootstrap is here to help. Working with our experienced high-quality React Native Developers comes with a lot of benefits.
Benefits of React Native App Development:

React Native apps work on iOS & Android devices

Developing apps cross-platform React apps are cheaper

React Native apps can be developed quicker using web technologies

React Native Developers can use web technologies to enhance their skillset

Cross-platform React apps provide a high-performing end-user experience
San Francisco React Native Developers are in high demand and for good reason. Our San Francisco Developers will have your project up and running in no time and will be with you throughout every step of the development and launch process.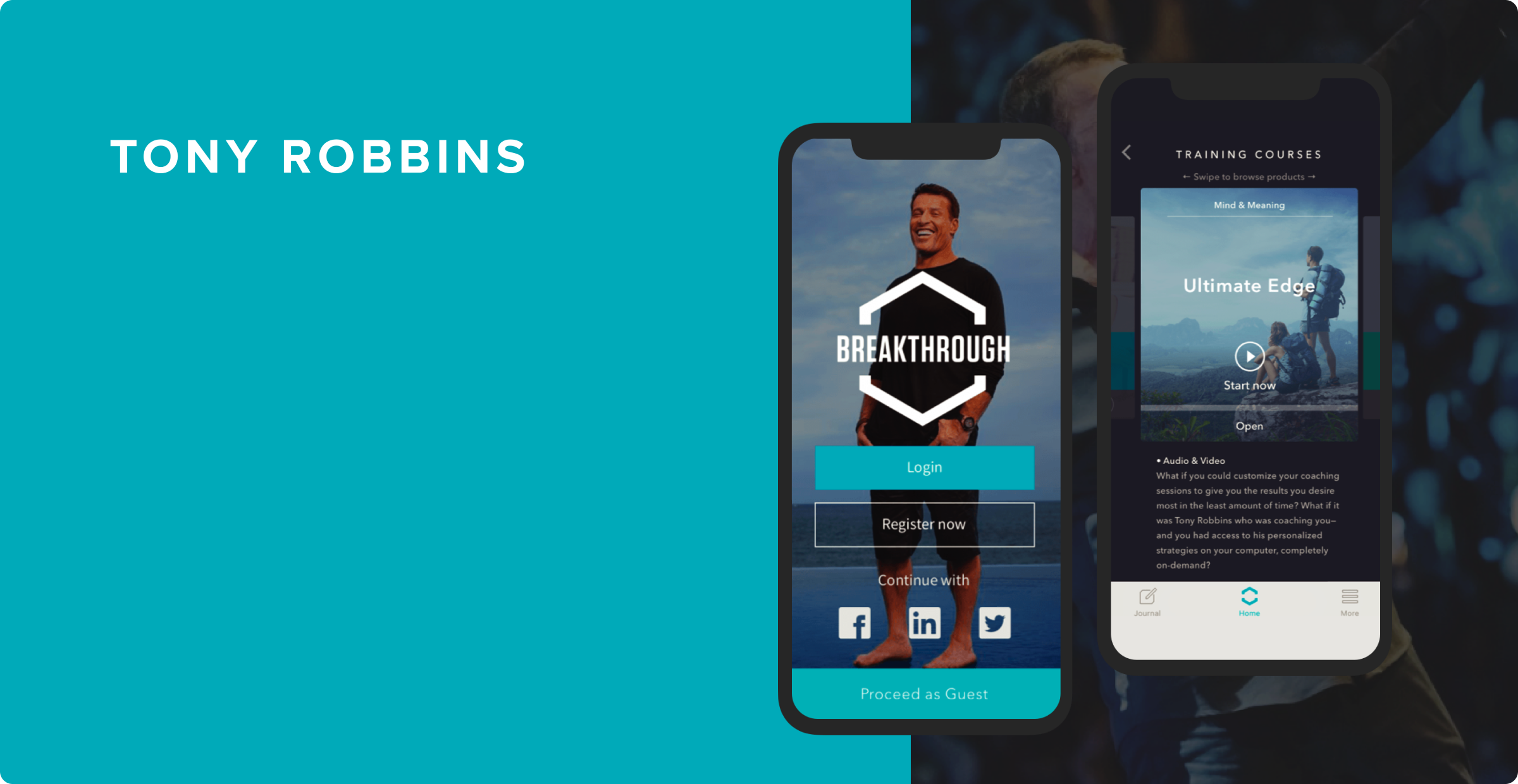 Rootstrap helped MasterClass build new features and double

their revenue
Rootstrap helped Tony Robbins digitize his coaching empire
Rootstrap helped MasterClass build new features and double

their revenue
Rootstrap Taught The

Google Opus Team

Design Sprints
Rootstrap Helped Globalization Partners achieve a 95% client satisfaction rate with mission critical software

Mobile App Development for

iOS in San Francisco
Why Develop an iPhone App?
The Apple App Store is the most lucrative mobile app market in the world. At Rootstrap, it's our bread and butter. Our engineers are well-versed in the best practices of building apps for the iPhone.
Apple's App Store generates significantly more revenue money than the Google Play store. While multiple factors contribute to the wealth raked in from the App Store, geography is the most significant differentiator.

The world's most developed, lucrative geographic markets, including the US and UK, favor iOS over Android. On average, iPhone app consumers are more affluent and are more willing to purchase mobile apps than Android users.
Apple gets the final say on what can be published on the App Store

Every iPhone app on the market has to be approved by Apple, Inc

iPhone app development changes take longer to publish

On the App Store, the review period for a new app can last anywhere from a few days to two weeks

This lag also applies to updates to the app, which makes the process of iterating based on user data slower and less flexible.
However, the profitability of the Apple marketplace is worth the drawbacks, as iPhone app users are the highest-spending mobile app consumers in the industry, and building an iOS app is a great way to generate a return.

Of course, best practices and great code are vital to achieving that goal. At Rootstrap, we have extensive experience in building stable, fast mobile apps for iOS and iPhone.
Drawbacks to building a mobile app only for iOS

Mobile App Development for Android in San Francisco
While iPhone apps have their advantages– launching an Android app is still an excellent strategy in many cases.
The Android market has the most users in the world

Over 100 billion downloads in 2020

Android operating systems account for the majority of consumer

downloads,

Google Play also offers the most apps

Android apps are currently better-positioned for long-term growth than iOS

Android reigns supreme in emerging markets and developing countries

Has a definite lead on Apple in emerging markets like China and Latin America

Publishing a new app or an update to an existing app much quicker than iOS
"When it comes to the number of available apps in the biggest app stores, Google Play and the Apple App Store lead the ranking with 2.56 million and 1.85 million available apps respectively," reports Statista.
Launching an Android app also offers you more flexibility than opting for the App Store. The Google Play store is less strict in its regulations than Apple's App Store, and it's possible to publish app updates and changes much faster than with iOS.

Due to quick publishing, Android apps are better set up for iterative development than iPhone apps. It's possible to launch your app, collect data from users, then publish new changes as quickly as possible so you can improve and grow your mobile app.
User acquisition costs less on Google Play than the App Store. Overall, it's cheaper, faster, and easier to build your user base and scale your app using the Android platform.
For a young company looking to get itself out there as quickly as possible, these cost-cutting and time-saving benefits can make all the difference.
Added Android bonus - once you grow your user base, it'll be even easier to scale the app in the iOS market because you'll start from a stronger market position.

San Francisco Client Testimonial



SAMIK BHOWAL
VP of Engineering at
CLEO, SF

Find Your Team of App Developers in San Francisco
You've got the idea. We've got the know-how. Together, we can create a useful and stunning app your audience will never want to delete.
At Rootstrap, our experience in mobile app development is broad and varied. If you have an idea for an app, we'd love to help you make it real. We'll bring the same set of skills and strategies that have let us launch more than 250 successful products – and we're always looking for new projects.
So what are you waiting for? Drop us a line. It never hurts to say hi. What are you waiting for?