At Rootstrap, we do more than just develop mobile apps. We help you realize your vision to its fullest extent – and turn your idea into a thriving, growing business.
Who are we?
Rootstrap is a team of nearly 100 full-stack engineers, mobile app designers, UI and UX architects, business strategists, and product fanatics dedicated to helping you build a mobile app, launch it in the Seattle market, and scale it to an international user base. While we serve the Seattle market, our team of app developers is spread across three continents, giving you the flexibility of local targeting along with the power of an international workforce.
Read More...
Truly, we're more than just a team of Seattle app developers. Yes, we make apps, but what we're really offering is something more: we are a creative business development studio. We have the experience to help you build a world-class digital product with an innovative business model to back it up. In other words, we do more than help you build an app.
We help you start and grow a business.
Our focus is to derisk your investment and deliver you a product that users will actually engage with. We've developed 250+ products for 500 founders with a combined revenue of 100m+. We battle-test every idea that we work on to make sure it can stand the test of time throughout market shifts and rends.

Mobile App Development in Seattle
That said, however, mobile app development is our life blood. We started out as an app development company, and we've since grown into a world-class mobile development studio equally suited to serving first-time entrepreneurs and enterprise corporations alike. No matter what platform, what industry, or what idea you're looking to build, our team of app developers will help you realize your vision in living, breathing color.
Read More...
While we work with plenty of Fortune 500s, we're just as happy to start at the beginning. Our team has built everything from ultra-lean MVPs to enterprise-scale applications, and we bring an unrelenting focus on real business objectives to every development process. Our mission is to help clients think about mobile app development as a means to an end rather than a goal in itself: we're constantly tying our development decisions back to overarching business goals. ROI is the name of the game for us – if it's not going to generate a return, we keep iterating until we find something that will.
To that end, we're dedicated to an Agile, iterative development process. This means that our development process focuses on creating a working piece of software as early in development as possible, even if that means it isn't polished. We do this because getting working software early on lets us put the product in front of users and test it immediately – and we use that data to iterate the product and guide the rest of the development process. Bringing the product to users at the outset, rather than the end, lets us ensure we're building something people actually want to use.
Our development process and business philosophy is heavily inspired by the tenets of the Agile Manifesto:
Individuals and interactions over processes and tools
Working software over comprehensive documentation
Customer collaboration over contract negotiation
Responding to change over following a plan
This is like our development and business bible, and it's served us well over the years.
Of course, if you just want someone to build to spec, we've got you covered there, as well. Our team is 60 strong, and each of our full stack engineers can roll with the best of them. We're relentless in the quality of our code, and we're well-versed in just about any technology, industry, or programming language you can think of. If you can think it up, we can build it. Guaranteed. You're on a journey, we're the life raft



Aggregate Product
Downloads

Highest Company Valuation


Mobile App Design in Seattle
Suffice it to say, our app development chops are top-notch – but if you want to set yourself apart in the Seattle market, you need to start with app design. And that's our specialty.
At Rootstrap, we've created a different approach to app design and development: Roadmapping. Roadmapping is our proprietary product development workshop: a mobile app founder's bootcamp that helps you define your concept, validate it in the marketplace, and set yourself up to develop on the leanest budget possible. Roadmapping is all about answering the big questions before investing in development, ensuring you're building something people actually want to use.
Read More...
App design is at the core of everything we do. While we're proud of our development chops, what Rootstrap really offers is the knowledge of what to build for a successful app – and mobile app design is the first step in that process.
We break the Roadmapping process into 4 key phases
First things first – we have to understand what we're building. In the initial phase, we work to completely define your app concept. Not just what it does, but how it helps its users –the key value proposition it provides.
With the concept in place, we move into sketching. In this phase, our goal is to explore every possible solution and architecture we can think of. No idea is too obvious or too anodyne – it's all about moving through the solutions and features that won't work so we can get to the one that works the best.
Now it's time to bring the baby to life. With a detailed understanding of the concept and core value proposition in place, your app design team will craft a comprehensive, high-fidelity clickable prototype of your product.
Finally, we'll get you ready for development. Drawing on the work done in the previous three phases, your team will work with you to create a detailed product backlog: a comprehensive document that outlines every feature and functionality of the mobile app. We'll then help you groom and prioritize this backlog, outlining exactly what you need to build for v1.0 and all subsequent builds of the product.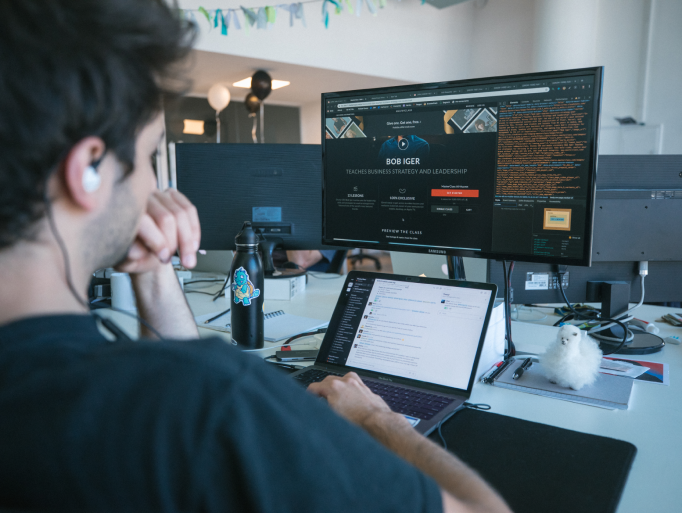 iOS, Android, Rails - You name it, we support it.

Help you flesh out your ideas and strategies

Strategy beyond the CMD line
We help clients with ideation, customer validation, launch plans, and beyond.

The Best Mobile App Developers in Seattle
Beyond app design, the power of working with Rootstrap is the flexibility we can offer. In addition to a crack team of mobile app developers serving Seattle, we offer a global team of professionals ready to help with every aspect of building and scaling a mobile app: our team houses app developers, app designers, UI experts, UX architects, business strategists, product badasses, and user testing ninjas that bring passion and expertise to every project we take on.
Read More...
We also provide the flexibility to support you at every stage of growth. Our team works with everyone from the biggest businesses in the world to entrepreneurs just getting started in app development, every day. And because we offer a distributed team of 60+ developers operating on three continents, we can work when you do and we can grow as you do – we're your team of app developers from day 1 all the way to IPO.
"I reviewed the app and it's totally spectacular. The approach that you took and the guidance you provided throughout the Rootstrap process has been phenomenal. I'm looking forward to continuing as partners!"
– Tony Robbins, CEO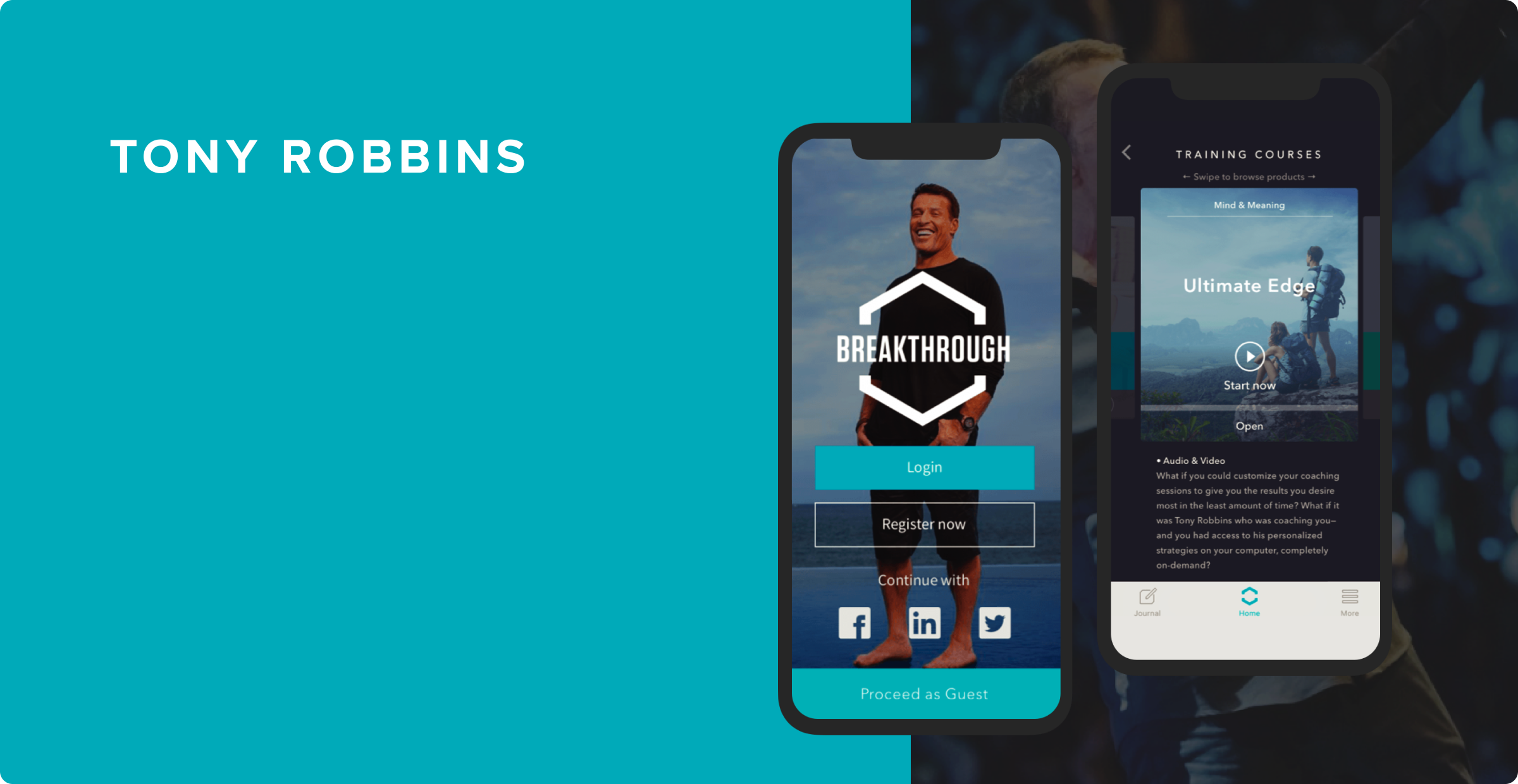 Rootstrap helped MasterClass build new features and double

their revenue
Rootstrap helped Tony Robbins digitize his coaching empire
Rootstrap Helped Globalization Partners achieve a 95% client satisfaction rate with mission critical software

Mobile App Development for iOS in Seattle
You might know you want to create a mobile app, but now you have to answer the big question:
Should I make Android or iOS apps?
Our answer is always both, but if time and resources force you to choose, there are strong arguments for either side.
Walk into any coffee shop in Seattle and it's pretty easy to see why you'd want to develop an iOS app. iPhone apps dominate in many of the largest, most mature markets: the US, North America, and Europe are all ruled by iOS apps. If you want to grow your app locally in Seattle or only want to target Western markets, iOS app development may be the way to go.
Read More...
iOS apps are also more lucrative on the whole. Apple's App Store generated $34 billion in revenue in 2016 – more than $20 billion over the Google Play store's $10 billion revenue. This means that from a purely monetary perspective, iPhone apps are often better positioned to generate ROI than Android apps.
However, money isn't everything, and iOS apps come with distinct disadvantages. The biggest theme is that apps for the iPhone are generally less flexible than Android apps. Publishing an app on the App Store requires a review period lasting anywhere from a few days to 2 weeks, which can slow things down if you aren't prepared for it. Even more troubling, Apple retains full control over what flies on the App Store: if they don't like your product, they can block it from the App Store – and there's not always a lot you can do to stop them. It's rarely an issue, but it's still a point worth considering.

Mobile App Development for Android in Seattle
Android app development may not be your first instinct, but there are compelling reasons to develop an Android app.
Firstly, the Google Play store is a much more flexible platform than the App Store. We can publish changes to apps via the Google Play store in a matter of hours instead of days – and that means that the iterative development process goes a lot faster with Android apps. This turnaround time lets us publish the app, collect data from real users, than improve the app based on that data in real time. For a first time app entrepreneur, that's a huge advantage.
Read More...
Android is also a higher-volume platform in general. The Google Play store generated 63 billion downloads in 2016, compared to only 29 billion on the App Store. That's a much bigger playground to build your user base than on iOS alone. And, thanks to Android's global marketing position, we can expect that discrepancy to get bigger as time goes on.
The Android market is posed for more long-term growth than iOS. Apple may own the developed countries, but Android dominates in emerging markets like China and Latin America. This means that launching and building a user base for an Android app puts you in a strong position to capitalize on long-term, global growth.
Furthermore, we've found that user acquisition is much less expensive on Android. This means it's possible to grow a user base for an Android app with less investment than on an iPhone app – and once you build that user base on Android, you can launch on iOS from a stronger market position.
Ultimately, the decision of whether to launch an iOS or Android app depends on your business model, your core user demographic, and your go-to-market strategy. And when you work with Rootstrap, we'll help you think through these things in as much detail as the technical specifications of your app itself.

Work with the Best Seattle App Developer
Succeeding in the mobile app market is hard – but if you have a good idea, you're willing to work hard, and you pick the right partner, there are millions to be made.
At Rootstrap, we're ready to work with you whether you have a detailed plan or a few ideas scrawled on a napkin. Truth be told, we've seen entrepreneurs achieve wild success from both – and our mission is to help you do the same.
So go ahead – drop us a line. We're always looking for new projects, and we'd be happy to talk to you about your app idea whether you're ready to start development or just want to chat.
Even the biggest companies in the world started as little more than conversations over coffee.
Give us a call. Maybe a cup of coffee or two will lead us to create something that changes the world. What are you waiting for?