Mobile App Development San Diego, CA
At Rootstrap, we do more than mobile app development. We help entrepreneurs and startups build incredible new products and businesses.
We bring a unique approach to mobile app development, combining user experience design, mobile development, and end-to-end business strategy under one roof. Our goal isn't just to build a product to spec – we want our clients to see real ROI, and we focus on grounding the development process in the overarching goals of the business we're serving. Working with Rootstrap means more than just engaging a mobile app developer. It means forming a business partnership that will help you grow throughout the life of your product.
Our focus is to derisk your investment and deliver you a product that users will actually engage with. We've developed 250+ products for 500 founders with a combined revenue of 100m+. We battle-test every idea that we work on to make sure it can stand the test of time throughout market shifts and rends.

Mobile App Development in San Diego
The Rootstrap headquarters is in Los Angeles, so we're well-steeped in the Silicon Beach environment. And yeah, it's impressive – but San Diego is starting to give us a run for our money up here.
San Diego may be known as a beach town, but the tech scene here is startling. Startups are popping up left and right, and if you're ready to get in on the action, Rootstrap can help you do it. Our development team features more than 60 full-stack engineers located everywhere from Los Angeles to Montevideo, and we'll work with you to optimize your app to dominate the San Diego market. And, because we're an enterprise-ready team, we can work with you from the beginning and scale your development resources as your business grows.
Read More...
But first, let's talk tech. We see technical proficiency as the oil that keeps our organization moving, and we're militant about the standards of our engineers and our code. Our app developers are some of the best in the business, and we've instituted a slew of policies that help us make sure every product we develop is world-class from the inside out.
Whether you're looking to develop for iOS or Android, mobile or tablet, startup or enterprise, Rootstrap has your back. Just take a look at some of the languages we speak:
Ruby on Rails
Swift
JavaScript
JQuery
HTML5 Mobile App Development
Augmented
Virtual Reality
API Development
Compass
Sass
Unity3D & Game Design
But truth be told, it takes more than technical ability to build an app. At Rootstrap, we are firm believers in Agile software development. Agile is a methodology introduced in the early 2000s as a new way to build software, and it influences almost every aspect of our business. The core principles of Agile are outlined in the Agile Manifesto:
Individuals and interactions over processes and tools
Working software over comprehensive documentation
Customer collaboration over contract negotiation
Responding to change over following a plan
In essence, Agile is about focusing on building a working product as early as possible. Creating a functional product at the beginning of development instead of the end lets us get that product in front of users and learn from them early – when we still have a chance to use that knowledge. This helps us make sure we're building something people want to use. After all, the idea here is for you to make money on this thing.
We've sharpened our development process into a well-oiled machine over the years, and if you're ready to start mobile app development in San Diego, we're here to help. But before we start building, we have to design your mobile app. You're on a journey, we're the life raft



Aggregate Product
Downloads

Highest Company Valuation


Mobile App Design in San Diego, CA
No matter what kind of mobile app you're building, the process starts with mobile app design. And our mobile app design process is a little different from the norm.
At Rootstrap, we do something called Roadmapping. Roadmapping is a pre-development product workshop, usually lasting somewhere between 2 to 4 weeks, where we aim to answer the big questions surrounding your app before we start building: who will use this? What does the app do? Is this product worth building in its current state, or do we need to pivot?
Read More...
We offer Roadmapping because it de-risks the app development process. Building a mobile app is a big investment, requiring time and money to do right. Before you make that investment, you want to be as sure as possible that your product will succeed in the marketplace. Roadmapping helps us answer that question at the beginning of development instead of the end, giving you what you need to develop the product with confidence.
Ok, you get the process – but what's the rationale? Why do we bother with all this when we could just start the mobile app development process?
We do Roadmapping because it helps us achieve better results for our clients, plain and simple. Looking at the data, a startup that goes through Roadmapping has a better chance of succeeding with a mobile app than one that doesn't.
Don't believe us? A little skepticism is healthy. Here are the facts:
18% of Roadmapping alumni raise at least $250,000 in pre-product seed capital.
8% of alumni raise at least $1,000,000 in capital.
This means Roadmapping alumni are 2,600% more likely to get funding than the average startup.
In all, Roadmapping alumni have raised $500 million of aggregate capital.
Roadmapping is our secret sauce. It's a product workshop, a founder bootcamp, and an incubator all rolled into one, and it's shown itself time and again to be one of the best approaches to building digital products. No matter what you're looking to build, Roadmapping by Rootstrap will help you do it.
We break the Roadmapping process into 4 key phases
First things first – we have to understand what we're building. In the initial phase, we work to completely define your app concept. Not just what it does, but how it helps its users –the key value proposition it provides.
With the concept in place, we move into sketching. In this phase, our goal is to explore every possible solution and architecture we can think of. No idea is too obvious or too anodyne – it's all about moving through the solutions and features that won't work so we can get to the one that works the best.
Now it's time to bring the baby to life. With a detailed understanding of the concept and core value proposition in place, your app design team will craft a comprehensive, high-fidelity clickable prototype of your product.
Finally, we'll get you ready for development. Drawing on the work done in the previous three phases, your team will work with you to create a detailed product backlog: a comprehensive document that outlines every feature and functionality of the mobile app. We'll then help you groom and prioritize this backlog, outlining exactly what you need to build for v1.0 and all subsequent builds of the product.

iOS, Android, Rails - You name it, we support it.

Help you flesh out your ideas and strategies

Strategy beyond the CMD line
We help clients with ideation, customer validation, launch plans, and beyond.

The Best Mobile App Developers in San Diego
Choosing a mobile app developer is a little like getting married. This person will – very literally – be creating your baby, responsible for bringing your vision to life and helping you make a lot of the key decisions that will define your business. You have to trust these people.
At Rootstrap, we're a team you can trust. Our company features mobile app developers, UX and UI designers, business strategists, product badasses, and experts with decades of experience, all hell-bent on helping you succeed. We are a multi-faceted, multi-specialty digital creative studio with employees spread across time zones and continents. We regularly work with some of the biggest names in tech and entertainment as well as Fortune 100 companies – but we've helped no-name kids out of Idaho build multi-million dollar companies from scratch, as well.
Read More...
We also offer the benefit of flexibility. We can provide a dev team as lean and Agile as you need to fit your budget, even if that means working with just one person – but as your company grows, we have the resources to grow with you. We've helped many startups navigate the challenges that come with fast growth, and growth marketing is one of our core service offerings. With Rootstrap, you get a growth partner – not just an app developer.
Don't take our word for it, though. Hear what Tony Robbins had to say about working with us:
"I reviewed the app and it's totally spectacular. The approach that you took and the guidance you provided throughout the Rootstrap process has been phenomenal. I'm looking forward to continuing as partners!"
– Tony Robbins, CEO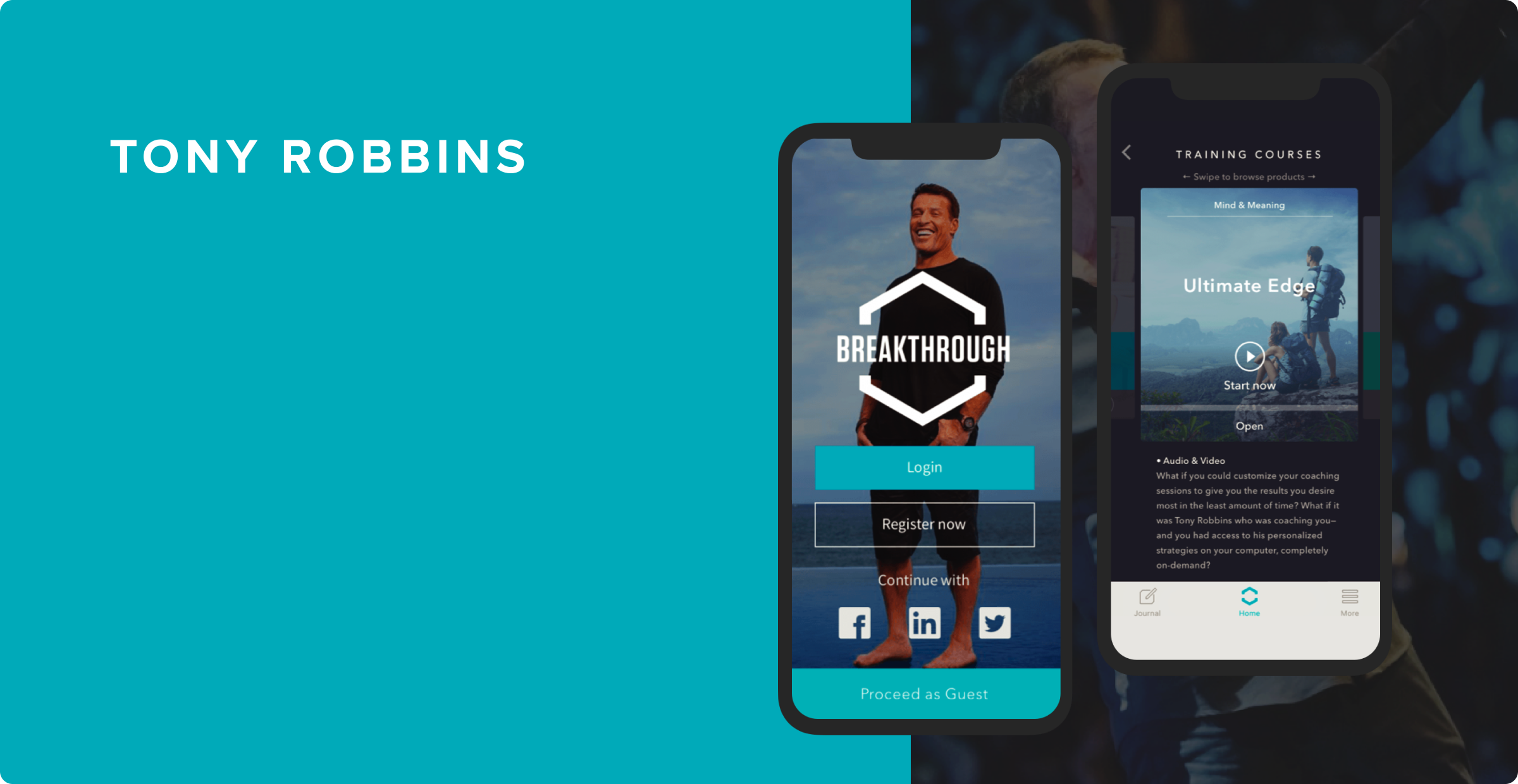 Rootstrap helped Tony Robbins digitize his coaching empire
Rootstrap helped MasterClass build new features and double

their revenue
Rootstrap Helped Globalization Partners achieve a 95% client satisfaction rate with mission critical software

Mobile App Development for iOS in San Diego, CA
We're equally at home with both iOS and Android app development, and when it's possible, we always recommend that our clients launch on both platforms. Sometimes, though, money's tight. If you have to choose one platform to launch on, there are some great reasons to choose iOS.
Pound for pound, iOS apps tend to be more lucrative than Android apps. Looking at data from 2017, we can see that Apple's App Store generated upwards of $40 billion in global revenue – twice the Google Play store's $20 billion. Not to mention, that revenue came from 28 billion downloads from the App Store, compared to 64 billion downloads from Google Play. In other words, iOS apps generated twice the revenue from half the downloads. That's some good-lookin' math.
Read More...
iOS is also a great option if you're targeting just a local market. Apple dominates consumer tech in developed markets, so iOS leads the way in North America and Europe – and that's doubly true in San Diego. After all, how many of your friends have iPhones? Launching an iOS app lets you tap into that market.
Still, there are drawbacks to iOS app development. The App Store is a more restrictive platform for app developers. Apple retains the right to reject any app for any reason, so there's always the threat of rejection, even if minor. Furthermore, the App Store has a waiting period lasting from a few days to two weeks before we can publish new apps or updates – so iterative development is slower on iOS. With planning and proper strategy, these obstacles rarely stand in the way, but they're still important to consider.
In any case, if you're looking for an iOS app developer, you've come to the right place. Our team is right at home working in native iOS app development, and we'll build you a product that's optimized to succeed from the inside out.

Mobile App Development for Android in San Diego



iOS development is enticing – but sometimes, Android is an even better bet. While it may not boast the same glamour score as iPhone app development, Android development still has advantages that can prove hugely important for a new startup.
At a basic level, Android is a much more flexible platform. We can publish changes and updates to the Google Play store in just 2 hours, dramatically faster than on the App Store. Android user acquisition also costs less than iOS user acquisition, which means you can grow your user base faster with less money. And because we can publish changes almost immediately, we're able to launch your app, collect data from users, and iterate the product based on that data in real time. This makes iterative development faster and easier, which means you can improve your product fast.
Read More...
Zooming out, Android is better positioned for global growth. Apple may dominate North America and Europe, but Android reigns in developing markets like Latin America and China. This puts Android in a much better position for global growth over the next 5 years – and building an Android app puts you in a position to capitalize on that growth.

Work with a Mobile App Development Company in San Diego, CA
Of course, there are no right answers to any of these questions. Choosing iOS or Android, just like every other decision in app development, depends entirely on the concept of your app, your target user, and your go-to-market plan. Thankfully, working with Rootstrap means you get a partner prepared to help you make those decisions.
We've helped everyone from Tony Robbins and Snoop Dogg to first-time entrepreneurs with no tech experience build beautiful, successful mobile apps. If you have an idea for one, we would be honored to do the same for you.
Go ahead – give us a call. We promise we're very nice people. And even if you just have an idea, we'd love to talk it over with you.
Some of the biggest companies in the world started as little more than a quick chat between friends.
Drop us a line. Maybe our quick chat will turn into something much, much bigger. What are you waiting for?