Mobile App Development in Philadelphia
Anyone can make an app. But the difference between Rootstrap and the rest is that we believe in producing stellar apps and offering an ROI-focused investment for our clients.
Our team at Rootstrap knows what it takes to create an app of the highest caliber, and as developers who've been in the industry for quite some time, we've also observed what it does to a business when an app just isn't what it should be. That damage is irreversible - so it's essential you take your app needs to a business that has a track record that speaks to its performance.
Read More...
From Tony Robbins to tiny one-man shops, Rootstrap has enabled more than 500 successful product launches. We're a full service digital creative studio with developers on 3 continents, and if you want to launch an app in Philadelphia, we can help. ROI-focused web and mobile app development is our calling card, and we're here to help you bring that idea from conceptualization to flawless execution.
Our approach to mobile app development works because it's different. Instead of building an app because it seems like the rightIt doesn't matter to us where in the app-creation journey you are. We want you to get in touch no matter what - whether you've got a loose idea in the back of your mind or already have mapped out a data-centric operational strategy. For our team here at Rootstrap, our only goal is helping our clients succeed with killer apps that revolutionize markets.
Our focus is to derisk your investment and deliver you a product that users will actually engage with. We've developed 250+ products for 500 founders with a combined revenue of 100m+. We battle-test every idea that we work on to make sure it can stand the test of time throughout market shifts and rends.

We Help Design Innovative Apps in Philadelphia
Innovation is the name of the mobile app development game. At Rootstrap, we're pretty much champions at producing a product that engages users. As the mobile app market evolves here in the city, so does our team of app developers for Philadelphia.
Read More...
We're manic when it comes to helping our clients make legitimate business choices through app development, and we do it through a meticulous build process focused on results. As of today, Rootstrap has developed more than 500 products for 1,000 founders to make up a collective revenue of more than $100 million dollars.
What's unique about our product offering is that we custom tailor it to you, our client. Some companies only specialize in B2B's, enterprise accounts, or even start-ups. But at Rootstrap, we're fully equipped to take on any project from anyone who needs a professional hand.
Customizable and prepared for the scope, scale, and depth of any development project that comes our way, we are ready to dedicate you one software engineer, or 60. It all depends on what you need in order to produce the most effective app for your market solution.
There's an Agile startup ethos that we offer as we scale to the needs of our clients: we work on creating apps that generate real ROI. In all that we do, Rootstrap developers ensure that we link elements of the mobile design and build to instrumental business objectives. The most success that we've seen apps have are the ones that are developed as a long-term, strategic effort intended to reach business goals.
When you trust us as your Philadelphia app developer, you can count on us to ask the questions that actually help you move forward: who is this app for? What's the monetization model and how quickly will you recoup your investment? How does mobile app development fit into your goals as a company? We'll help you get to those answers, as they act as figurative lighthouses in the murky sea that is app development.
Agile development is the Rootstrap core mantra. We embody Agile development in every project from ideation to fruition. For our team, we use Agile to keep us focused on producing functional software with speed and clarity. In keeping with the Agile Manifesto, we prioritize individuals and interactions over tools, working software over documentation, customer collaboration over contractual negotiations, and responding to change vs. sticking to a plan.
In all of our client interactions, these functions of our business, of our Agile working style, have resulted in the production of stellar working products and customers that are overjoyed with a process that brings results.
We're biased, we know, but we're not alone in our joyful use of Agile development. There's a reason why the methodology has rapidly attracted a colossal following among both national and Philadelphia app developers over the years: it works. There's something to be said for getting a functional product out in front of end users, and that's our focus as app developers.
Not only has this been proven to build incredible customer, but agile development brings out the best results for long-term app ROI.
You could have a massive enterprise product that needs building or a basic mobile app for a small customer base, and we can tell you with confidence that either way, Agile development through Rootstrap is the best choice for you and your brand. You're on a journey, we're the life raft



Aggregate Product
Downloads

Highest Company Valuation


Top App Developers for iOS in Philadelphia
It's important to know that the team you choose to invest your app dreams into are a highly skilled group of workers armed with a sparkling resume that speaks volumes to their capacity for quality. We pride ourselves on having this very identifier here at Rootstrap - we've got app developers that use Agile development to craft products that produce genuine ROI for our clients.

iOS, Android, Rails - You name it, we support it.

Help you flesh out your ideas and strategies

Strategy beyond the CMD line
We help clients with ideation, customer validation, launch plans, and beyond.

Inventive Design And App Development in Philadelphia
Alas, development is not doable without its counterpart: design. Here at Rootstrap, design is one of our key service offerings. As a result, we have devoted a separate product entirely to mobile app design: Roadmapping.
Roadmapping is the heart where all of our most acclaimed works have sprung from. Roadmapping asks all the right questions before product development gets going, which is ultimately crucial to the long-term success of an app. Questions like these:

- Who is this app for?
- Why do they need it?
- Why is better than the apps already available?
- What problem does it solve?
Read More...
Defining a concept is what Roadmapping is all about. It aims to clarify an idea, validate its need in the industry, and from there build a literal roadmap from start to finish.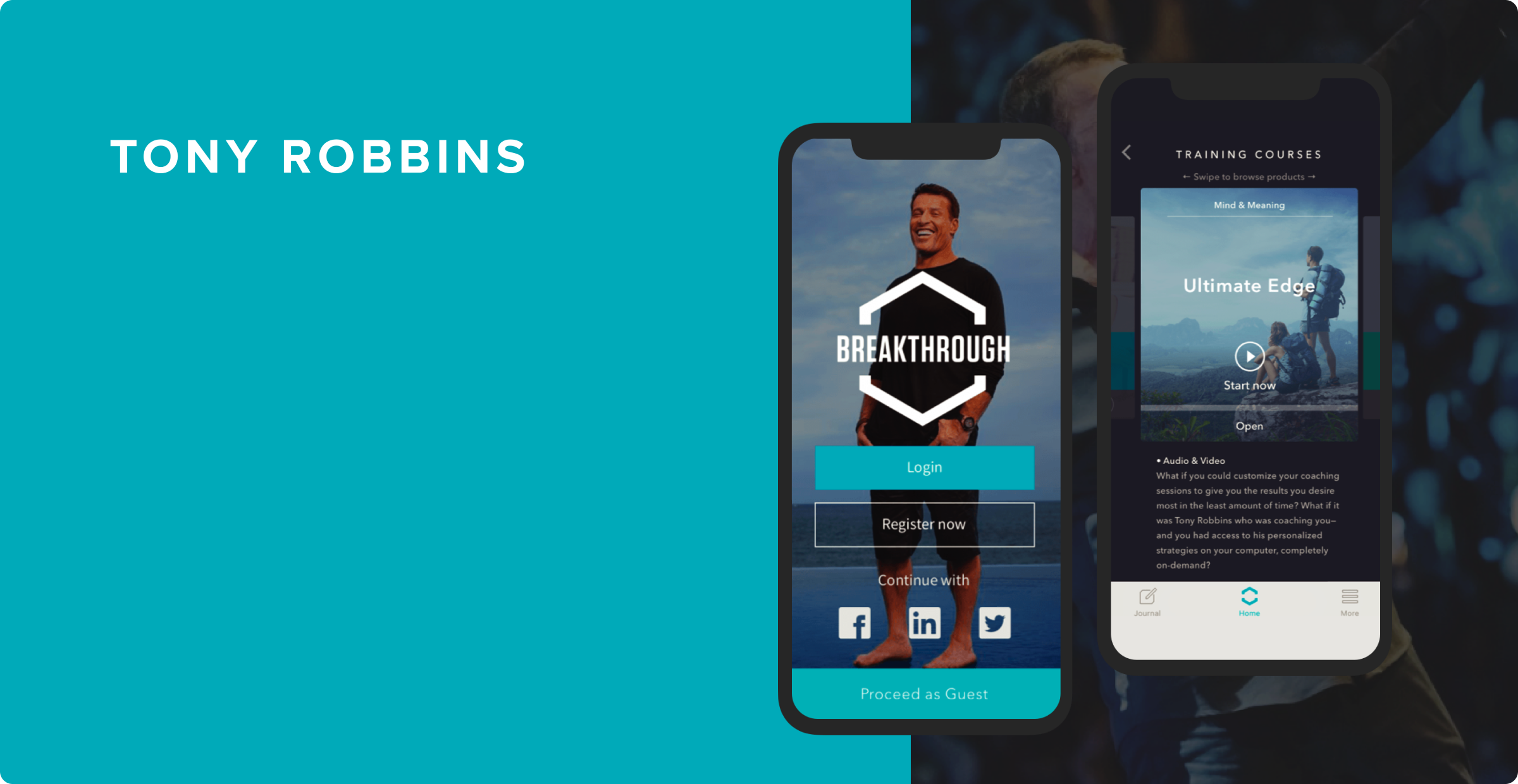 Rootstrap helped MasterClass build new features and double

their revenue
Rootstrap helped Tony Robbins digitize his coaching empire
Rootstrap Helped Globalization Partners achieve a 95% client satisfaction rate with mission critical software

Here are just a few ways in which Rootstrap can help with your mobile app development:
iOS, Android, Rails
Check all of the above. Whatever platform you'd like to optimize your app for, we've got you taken care of.
Ideas and strategies are the name of the game.
With our help, we can guide you with expert advice from concept to meticulous blueprint.
Design Thinking
Strategic thinking from a design perspective is highly integral to an app's success. We help clients with ideation, customer feedback, launch, testing and more.

Mobile App Development for Android in Philadelphia
Now that you've learned all about our roadmapping standalone product, we know you're hyped to get going with building an app with Rootstrap. But before we get the ball rolling, let's talk about how our team of global workers can help you.
Read More...
Philadelphia is rapidly evolving to be a major breeding ground of top-notch app development. This market expansion is both positive and complex - largely thanks to how difficult it can be to find an app development company you want to align your goals with. It really all boils down to trust.
We say at Rootstrap that trust comes from more than an impressive portfolio of work. Trust comes from clarity, open lines of communication, and full transparency. These components should supersede everything when searching for an organization you trust. However, once trust is established it's also equally important to maintain it.
We do that through a world-class team of almost 100 people as well as more than 60 full-stack engineers. UI designers, UX architects, strategic business advisors, growth hackers, and product geniuses all make up our company of innovative thinkers. We're fully prepared to handle enterprise-level companies, and our global team scattered in major locations across the U.S. can work on your time, with local Philadelphia app developers particularly on the ready.
echnically speaking, we're as good as it gets. We maintain a high standard for code quality and hire only the number one engineers, and our team can speak just about any language you can think of. Our specialties run from the traditional to the experimental, and we're right at home with a diverse range of technologies:
Swift
C+
HTML5 Mobile App Development
HTML5 Web App Development
Sass
JavaScript
JQuery
Compass
iOS Development
Android Development
Augmented & Virtual Reality
Unity3D & Game Design
API Development

Let's Build an App Together, Philadelphia
When you work with Rootstrap, you're doing more than just choosing an expert Philadelphia app developer – you're choosing an experienced business strategist that's both dedicated and passionate to your success, both during and after the development phase. Our designers are what we consider "cream of the crop" based on their individual talents,
background, training, and exemplary standard of work they produce.
At the end of the day, we at Rootstrap believe that our success rests in our clients' success. We know that an app venture presents a golden opportunity for a fresh path of diversified revenue, and we'll work with you to design, develop, and launch a mobile app that generates the profit you're seeking.
Read More...
There are plenty of app developers in Philadelphia. But at Rootstrap, we do more than just take orders and build you what you ask for: we join you as a digital partner. We'll work with you to do the research and answer the hard questions, giving you our genuine advice and helping you map a path to long-term profitability. For us, app development is a means to an end, not an end in itself. And no matter what service you're looking for, we'll help you use digital development as a way to create or grow a thriving, profitable business.
Drop us a line. We're always happy to hear from new clients. Whether your ideas for a plan are scattered haphazardly throughout your mind, or months into the making, do reach out for help.
So what are you waiting for? We're the best app developers in Philadelphia, and we're more than excited to get started working with you. Give us a call or drop us a line if you're intrigued and would like to learn more. We'll set up a time to discuss your idea, what you need, and chat through your options for moving forward with Rootstrap. What are you waiting for?