Mobile App Development in Minneapolis
In the hustle and bustle of Minneapolis, we hope you've caught on to the growing
demand for mobile app development.
Silicon Beach has made a reputable name for itself as the epicenter of startup growth in the Western hemisphere. We've been an integral part of the scene from its birth, and as a mobile development agency, we've observed the successes and the failures of countless start-ups. If you're a Minneapolis-based business looking to jump into the competitive start-up space, there's no better team to turn to than ours. With an exceptionally talented group of developers across three continents, we're ready to tackle your app for the Minneapolis app market.
As a digital creative studio, Rootstrap does it all for startups and major brands, from inception to delivery. We offer ROI-focused web and mobile app development to the Minneapolis market. From Tony Robbins to shops in tiny Midwest towns, Rootstrap has partnered up with clients from enterprise sizing to small emerging businesses. Not to mention our track record consists of more than 500 successful product launches. Our main aim at Rootstrap is to help you thrive in a highly competitive market space: the digital products industry. You could be at any stage of your app-making journey and we're happy to help you bring your dream app vision to life. For our team at Rootstrap, our main priority is your success.
We're all about de-risking investment because we know that's a business owners' biggest objective when starting out. Execution is the second part of that equation: we'll work tirelessly to deliver you a product that users will genuinely engage with. We've developed 500+ products for more than 1000 founders, totaling up to a combined revenue of $100m+. It doesn't stop there: we meticulously test every idea that we work on to make sure it can withstand ongoing industry evolution, market shifts, and trends.
Our focus is to derisk your investment and deliver you a product that users will actually engage with. We've developed 250+ products for 500 founders with a combined revenue of 100m+. We battle-test every idea that we work on to make sure it can stand the test of time throughout market shifts and rends.

Mobile App Development in Minneapolis
Mobile app development is the core of our motif as a business working to scale other businesses. As we're in one of our favorite cities, we have a world-class, top-of-the-line team of app developers serving Minneapolis.
We got you, no matter the size, type or scale of your project. Big or small, user-facing or B2B, startup or enterprise, we flexibly, custom-fit our services to match your needs. Whatever your vision holds, we've got a solution for it. Be it a single software engineer or a worldwide team of more than 70, we know that businesses scale, as do needs. We're serve clients of every size, and we're here to grow with you as your brand expands. No matter the client, we deliver the same lean, Agile ethos to every project we tackle. You're on a journey, we're the life raft



Aggregate Product
Downloads

Highest Company Valuation


Mobile App Design in Minneapolis
Now, this may sound obvious, but we all know you can't have development without user-friendly, clean design. That's why mobile app design is one of the core, exemplary service offerings we have here at Rootstrap. When it boils down to it, mobile app design is so essential to us that we have a specific, highly tailored service dedicated purely to exceptional mobile app design: Discovery.
Discovery is our special ingredient to a highly successful, marketable, revenue-garnering product. It's the concept that we pride ourselves on, as it sets us apart from other creative development studios. A pre-development product workshop, Discovery is an original offering we provide to businesses looking to answer their big questions. Who is this for? Why do they need it? Why is it better than what's already out there? With Discovery, a business is able to quickly and efficiently define and validate a concept, then create a detailed roadmap that you can use when developing the finished product. It's standalone and can be done alongside other product offerings of ours, like app development, for any business in Minneapolis.

iOS, Android, Rails - You name it, we support it.

Help you flesh out your ideas and strategies

Strategy beyond the CMD line
We help clients with ideation, customer validation, launch plans, and beyond.

The Best Mobile App Developers in Minneapolis
We're a global team of agile app developers and business strategists, which gives us the flexibility and capacity to work when you do and adjust to any time zone. At this rate, we'd hope you're pretty intrigued by our brand and unique business offering. But there's just one more key question we need to answer: who are the people behind Rootstrap? We're just like you, in the sense that we believe in furthering visions of people with big dreams. We're a team of mobile app developers, product aficionados, and visionaries.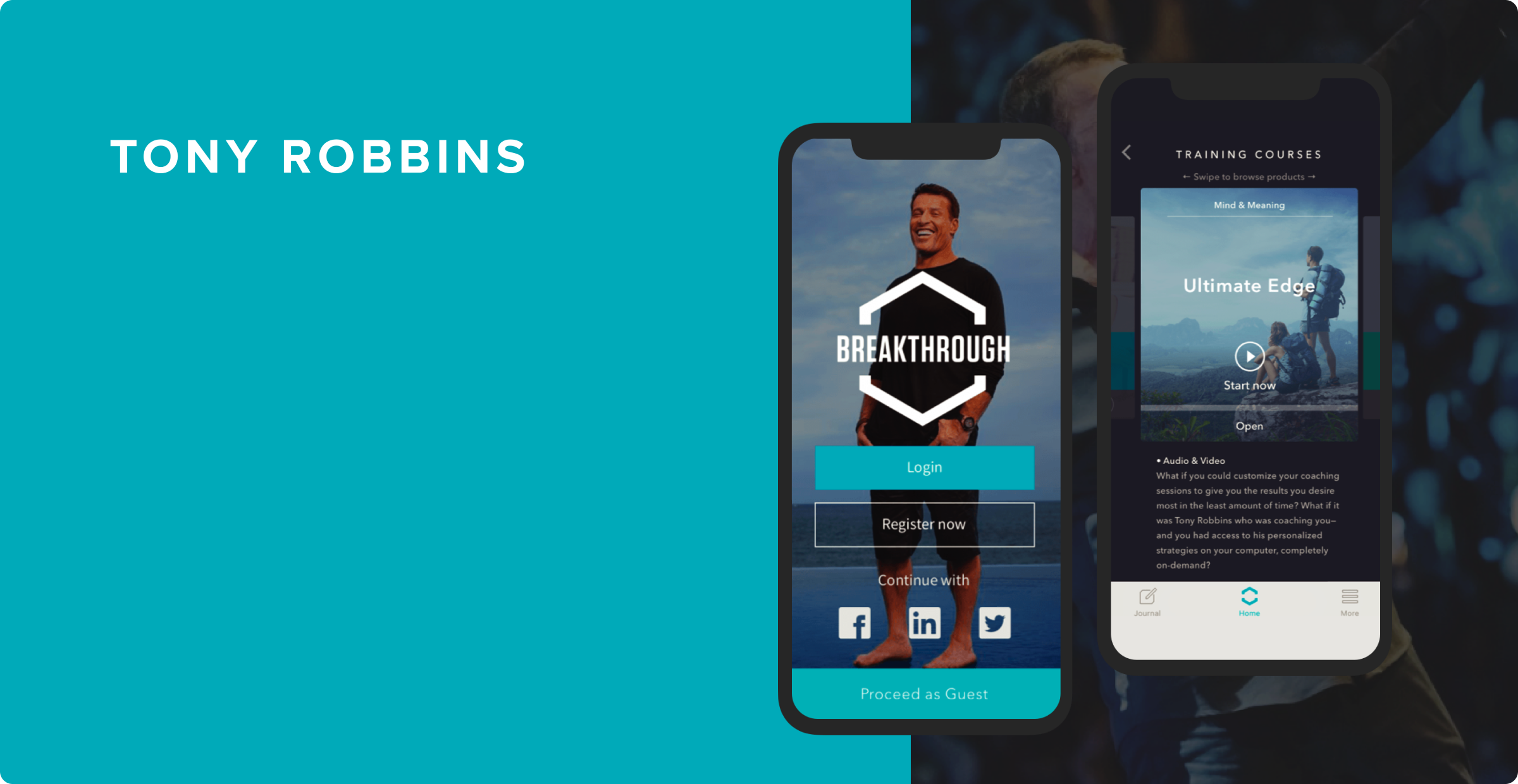 Rootstrap helped MasterClass build new features and double

their revenue
Rootstrap helped Tony Robbins digitize his coaching empire

Mobile App Development for iOS in Minneapolis
Apple seems dominates the consumer tech hardware space, so it's no surprise that iOS app development is priority number one for most app entrepreneurs. You probably already have some insight in this, but iPhone apps offer a stellar market, brimming with opportunity to revolutionize the way problems are currently solved. As for Rootstrap personally, we love a well-made iPhone app. We've been building world-class iOS apps for years on end. Did you know that Apple's App Store produced nearly $40 billion of revenue in 2017, and that trend is projected to just keep getting bigger? And if these trends hold, those already colossal figures will only grow in the coming years.
Reality check. Big markets do not equate instantaneous success. That all comes down to product quality and delivery. This goes without saying, but if you want to launch a successful mobile app that takes advantage of that growing $40 billion, you really need a solid team to bring it home.
Read More...
Look into overlapping of 'Mobile app Development for iOS' read more text content
Fear not: Rootstrap has got you covered. Our team is the best of the best. That's thanks to our supremely talented engineers, all of whom specialize in iOS development. We also hold the code standards for our iOS apps to A-class expectations for our master engineers. Not only is iOS an area we are regular code kings at, but our team is just as comfortable in Swift, C, C++, Objective-C, and plenty more. Any other language you want to work in, we got it. Also, our commitment to Agile means we work hard to make sure we're not just building well, we're building to maximum efficiency in the leanest way possible. In all of our time owning this mobile development space, we've acquired some hefty knowledge about what gets apps featured in the App Store – and we'll help you give your product the best chance possible to attain this goal.
But app development is about more than tech chops. Our entire process is crafted around the foundation of helping our clients reach positive ROI. From inception to design to development, we focus on the needs of users and the objectives of your long- term, overarching business strategy. Lucrative markets are calling your name, but in order to achieve what you set out to do, and get a chunk of that $40 billion revenue, you can't be a green business owner with zero insight or awareness of how things work. That's where Rootstrap is invaluable.

Mobile App Development for Android in Minneapolis
iOS development may take center stage in the app development market, but it's a mistake to discount Android. We won't deny iPhone apps deserve the hype, but there's plenty to love about Android app development.
Let's look at the facts. Android apps get significantly more downloads than iOS apps overall. In 2017, The Google Play store generated 64 billion downloads, which was more than double that of the App Store. And while it's nowhere near that $40 billion App Store revenue, the $20 billion Google Play racked in last year is nothing to scoff at.
Read More...
If we're talking functionality, Android is also a more flexible platform than iOS. User acquisition is cheaper for Android apps, meaning it's less costly and easier to scale a user base for an Android app than on iOS. Another awesome note that makes Google Play stand out? It allows you to publish updates in just two hours. That's a lot shorter than the App Store's waiting period, which ranges anywhere up to two weeks.
Such flexibility makes development easier and faster. For that initial v1.0 on Android, we can ultimately push it a lot easier and faster on Android than on iOS. Not only that, but we also can gather data from users and iterate the app in real time on the Android platform. When it comes down to it, as a business strategy we always recommend releasing on both platforms. Still, if you're a small emerging business and the purse strings are limited, we've seen many companies reach success by building an initial user base on Android. Once that's in a solid market position, then you can decide to launch and move forward on iOS.
In all honesty, we know that there's no one size fits all answer to this decision. It all comes down to your unique, one-of-a-kind app and what it needs development-wise. What's your concept, your key value proposition, and your target user demographic? These are the kinds of questions we'll help you answer in Discovery, and from there comes a pretty natural solution on which platform (iOS, Android or both at once) is right for that v1.0 launch.
Before you even start building out that app of yours, it's imperative you get those very questions answered. Work with us and we'll make sure you find the right ones.

Of course, there are no right answers to any of these questions. Choosing iOS or Android, just like every other decision in app development, depends entirely on the concept of your app, your target user, and your go-to-market plan. Thankfully, working with Rootstrap means you get a partner prepared to help you make those decisions.
We've helped everyone from Tony Robbins and Snoop Dogg to first-time entrepreneurs with no tech experience build beautiful, successful mobile apps. If you have an idea for one, we would be honored to do the same for you.
Go ahead – give us a call. We promise we're very nice people. And even if you just have an idea, we'd love to talk it over with you.
Some of the biggest companies in the world started as little more than a quick chat between friends.
Drop us a line. Maybe our quick chat will turn into something much, much bigger. What are you waiting for?