Mobile App Development in Los Angeles
Los Angeles is a thriving city for mobile app development with many startups and tech giants now calling it home. Rootstrap has been in the Silicon Beach tech scene since its inception, successfully overseeing 250 + product launches.
Rootstrap is a full-service digital creative studio offering ROI-focused web and mobile app development. We've worked with everyone from stars like Tony Robbins and Snoop Dogg to entrepreneurs with the latest and greatest app ideas.

Mobile app development is the core of our business identity at Rootstrap. As our home city, we have a world-class team of Los Angeles app developers ready to bring your idea to life.
Whether you have a nearly-finished app with a comprehensive go-to-market strategy or you have an innovative idea from a moment of inspiration, Rootstrap has you covered.
Our focus is to strip the risks from your investment and deliver you a product that will engage your audience. We've developed 250+ products for 500 founders with combined revenue of 100m+. Our team battle-tests every idea that comes across our desk to make sure it can withstand the test of time throughout market shifts and trends.

Agile Mobile App Dev Company LA
Whether your company's project is big or small, user-facing or B2B, startup or enterprise, Rootstrap scales to your needs.
At Rootstrap, we firmly believe in Agile development. Agile is a software development methodology that prioritizes building functional software above all else.
Instead of spending excessive time in the planning stages, we work to create a lean minimum viable product (MVP) and get it in front of users as soon as possible.
Here are the four main principles of the Manifesto for Agile Software Development:
Individuals and interactions over processes and tools
Working software over comprehensive documentation
Customer collaboration over contract negotiation
Responding to change over following a plan
Getting a functional product in front of users helps us earn from the people we want to reach with your app. Gathering valuable feedback from your audience during the early stages of development lets us ground every succeeding decision in what real users want.
Our Product Development

Process & Deliverables

As soon as we have the green light we can get a project up and running in less than two weeks. 12.4 days to be exact. Led by our Discovery Process, here's how we work: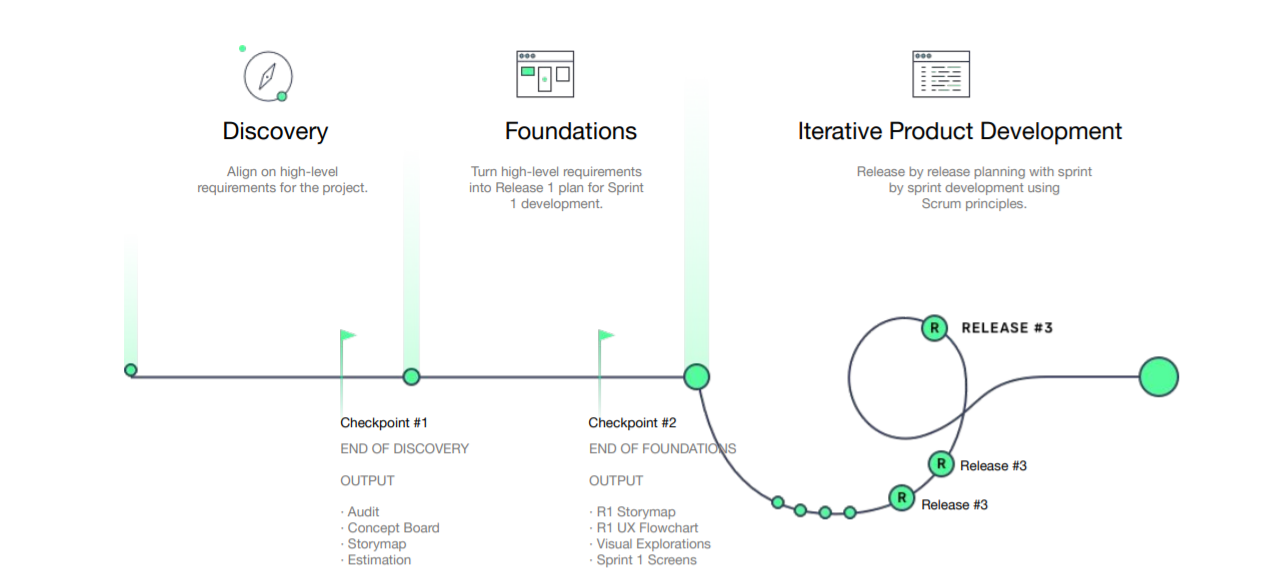 Mobile App Designers in Los Angeles

Of course, development is impossible without design – and mobile app design is one of our core service offerings at Rootstrap. In fact, this is so important to us that we have a standalone process dedicated purely to mobile app design: Discovery.
Discovery is the seed from which our greatest projects have grown as it creates a shared map to exactly where you want to be. It's a pre-development process that helps us answer the biggest questions before putting down big money for development:
Discovery helps us answer the following questions:
Who will use this app?

Why do they need it?

Why is it better than what's already out there?
Discovery serves to define your concept, validate it in the marketplace, and map the course to launching the final product.
Trust the Discovery Process
We break the Discovery process into 4 key phases
Through our honed Discovery process, we work with you to unearth the unique value proposition your project represents. Having a shared, crystal clear understanding of the mission is essential to avoiding feature-creep and unnecessary distractions.
Asking how much it costs to build an app is like asking how long is a piece of string. It depends on a wide array of variables and unknown unknowns. Discovery helps us co-create a shared understanding of what it will take to
build and release an MVP.
If you've already started down the path of building your product but are finding your current resources lacking, we will take a look at the existing work to see what can be used, what can be improved, and what needs to go.
By understanding your vision, assessing any existing assets, and co-creating a plan for the core functionality needed for an initial release, we can shave weeks or months off the project timeline - and the budget. You're on a journey, we're the life raft



Aggregate Product
Downloads

Highest Company Valuation


iOS, Android, Rails - You name it, we support it.
We'll put our heads together to help you flesh out your ideas and strategies.


Strategy Beyond the CMD line
We help clients with ideation, customer validation, launch plans, and beyond.
The Best Mobile App Developers in Los Angeles

While LA is our hometown, our team is global and works across multiple timezones, which gives us the flexibility to work when you do, no matter where you are.
Our Los Angeles mobile app developers have the experience and skillset to help you break into the LA market, just like we did for Tony Robbins and Snoop Dogg! Here's how our LA app developers do it.



React Native Developers in LA
If you need an LA-based React Native Developer to bring your app idea to life, you've come to the right place. There are many benefits to developing React Native apps, most notably cost and time.
React Native App Benefits:
React Native apps are both iOS & Android efficient

Cross-platform apps are quicker & cheaper to build

Our developers can use web technologies to build React apps

Web technologies are efficient tools that can improve React Native developers skills

With React Native apps you get better speed & agility, and an excellent final product
Rootstrap's React Native Development Team is second to none and takes great pride in the high-quality code they provide our clients. Our LA React Developers don't just build your app and disappear, they stay as committed post-launch as they do during development.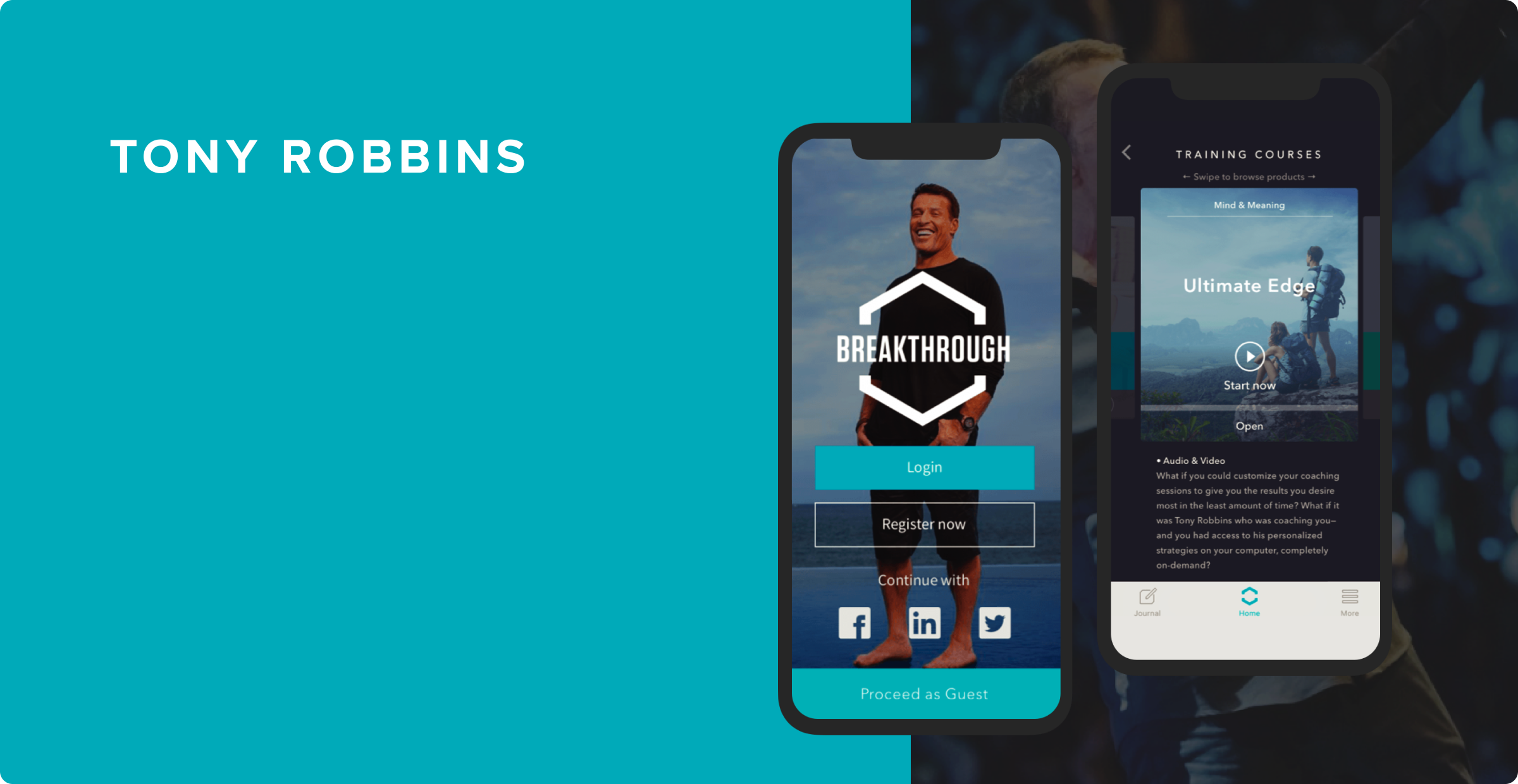 Rootstrap helped MasterClass build new features and double

their revenue
Rootstrap helped Tony Robbins digitize his coaching empire
Rootstrap Helped Merry Jane Develop a High-End Cannabis-Focused Digital Media Platform
Rootstrap Taught The

Google Opus Team

Design Sprints
Rootstrap Helped Globalization Partners achieve a 95% client satisfaction rate with mission critical software

Mobile App Development for iOS in Los Angeles
The Apple App Store is a lucrative marketplace many startups are eager to join.

"In 2020, customers spent an estimated 72.3 billion U.S. dollars on...in-app purchases, subscriptions, and premium apps in the Apple App Store," reports Statista.
Still, this massive marketplace does not guarantee a product will meet with success. Creating an app that's worth downloading starts with enlisting a good team.
The Rootstrap dev team has been building world-class iOS apps for years. Our software engineers are masters in iOS development. How do we do it?
We're militant about the code standards for our iOS apps. We're equally at home in Swift, C, C++, Objective-C, or any other language you prefer. Beyond that, our commitment to Agile means we work hard to make sure we're building as lean and efficient as possible.
Pro tip: Our experience equips us with insight into what it takes to get apps featured in the App Store. We'll work with you to give your product the best chance possible.
Still, all the world's technical proficiency is nothing if you don't reach a positive ROI. From inception to design to development, we base every decision on users' needs and your company's long-term goals. That way, we can help you tap into the juicy Apple market and get a strong ROI.

Mobile App Development for Android in Los Angeles
iPhone apps may get more of the spotlight, but companies should not overlook Android app development's growing value.

"In 2020, Google Play users worldwide downloaded 108.5 billion mobile apps, up from 76 billion apps in 2018," says Statista. "Google Play generates significant[ly] more downloads than the Apple App Store, as it is available for a wider range of devices than Apple's closed iOS ecosystem, which is only available for Apple devices."
On another level, Android is a more flexible platform than iOS in several key ways. User acquisition costs less for Android apps than iPhone apps, which means it's cheaper and easier to build a user base for an Android app than on iOS.
Additionally, Google Play allows you to publish updates faster than on the Apple Store. This flexibility makes iterative development easier and more efficient. Google Play will enable us to publish an initial v1.0 on Android, gather data from users, and iterate the app in real-time.
We always recommend releasing an app for both Google Play and the Apple App Store. However, if money is tight, we've seen success by building an initial user base on Android, then launching on iOS once your app gains traction and has a stronger market position.
If you're stuck debating between launching an Android or iOS app or both, don't stress it too much. Ultimately, there's no right answer. How you choose to allocate development resources and bring your mobile app to market all depends on the specifics of your app concept, your key value proposition, and your target user demographic.
When you work with Rootstrap, we help you answer all these questions before building the app.

If you're considering building a mobile app in Los Angeles (or New York, or anywhere else for that matter), we would love to hear from you. We're always looking for new projects and want to talk with you whether you have a detailed plan or just a spark of an idea.
Drop us a line, even if it's just for a quick chat. After all, the world's biggest companies started as just that: quick, friendly chats over coffee.
Who knows? Maybe we'll help you start the next one. Anything can happen in this town.


Los Angeles Client Testimonial



TONY ROBBINS
Founder at
Robbins Research Institute, LA

Frequently Asked Questions

What questions do I ask an app developer?
When shopping around for an app developer in Los Angeles, the three most important questions to ask are:
What development methodology do you use (Agile vs. Waterfall)?

How do you handle strategic planning?

What is your market validation process?
Get to know their track record of past work and return on investments. Read up on testimonials and browse their portfolio.
Please feel free to contact us at Rootstrap with these types of questions and ask for a quote.

How much does an app cost?
The development costs of an app can range anywhere from $80k to $250k+, depending on the app's complexity and scope and its intended platform and category.
An app development agency's location and its development methodology approach also contribute to the final cost.
See how companies are using IT staff augmentation as an alternative to help lower app development costs.

Is it better to have my app developed in Los Angeles or San Francisco?
San Francisco is an undisputed hub of app development due to its proximity to Silicon Valley and VC funding. Similarly, the Los Angeles tech scene (Silicon Beach) is now home to tech industry leaders such as Hulu and Google.
While San Francisco has a deeper talent pool, Los Angeles app developers continue to flourish due to its industries' diversity and access to LAX. Financially, the two cities have hourly rates ranging from $100 - $199.
Please get in touch with us to learn more about app development in Los Angeles. What are you waiting for?