In its simplest form enterprise, mobile application development creates mobile apps that enterprise-level businesses use to track events and projects both internally and on the client-side. Allowing staff to work efficiently outside of a traditional office environment, mobile enterprise apps can impact and positively influence sales, competitiveness, communication, negotiation efficiency, and more.
Since being embraced by companies from Fortune10 to 500 companies enterprise mobility has boosted team productivity by leaps and bounds. It is now providing the flexibility unknown to many just by allowing employees to work effectively from virtually anywhere.
Teams can travel, work from home, or even from the local coffee shop with access to the cloud and enterprise apps. Global teams (like those at Rootstrap) can exchange information, ideas, and plans in seconds thanks to such technology.
Rootstrap - Enterprise Mobile Application Development Experts
The Apple and Google Play app stores have hundreds of tools your team needs to get their work done. However, more often than not, within an organization, there is a need for an application that hasn't yet been designed.
In case there's a need for a custom app, an organization reaches out to an enterprise mobile application development company to develop technology with the appropriate tools and components that can fulfill those specialized business requirements.
While the user experience should feel intuitive and familiar, enterprise mobile application development strategy differs from apps we use in our day to day lives. Effective apps should attract and retain user attention, be easy-to-use, and intuitive.
Incorporating cloud technology into enterprise mobile apps is a given for most businesses looking to consolidate tools and streamline processes.
Cloud computing is one of the fastest, most affordable and easy to deploy technologies available today. Utilizing cloud storage allows apps to run quickly and intuitively while taking up less space on a device than direct storage. The additional benefit of providing greater security to an organization by allowing remote cut-off of access if needed makes cloud tech a great option.
Choosing and trusting an enterprise mobile application development company for the first time can be overwhelming. Navigating enterprise application development and mobile middleware frameworks is no light task, especially for a business that doesn't specialize in some form of tech. At Rootstrap we aim to make the process as transparent as possible.
App Development From Scratch
Types of Enterprise Mobile Applications
Mobile enterprise application development serves the many specific needs of various departments. Apart from the optimization of marketing, financial, or other various internal workflows - a well designed and developed app can also be useful for customers. It offers a direct line of communication for feedback with little to no delays.
At the company level, mobile apps bring each department into a single network. Giving department leads and staff an easy and direct line of communication with access to enterprise databases, documentation, and valuable tools like tutorials, process, and policy.
Employee level apps have a short but important list of features. For example, keeping managers and their teams on track and minimizing delays by allowing quick access to all project tasks and information
The premier app development company trusted by the fastest growing startups + Fortune 500

More potential and access to new types of growth
Real-time task processing
Increased security with blockchain customization
Reduces costs by improving operational efficiency
Intuitive handling of day-to-day tasks with flexibility and scalability
Allows mobilization of business-critical processes
Security is a major concern for enterprise companies. The risk of a leak of sensitive information can be enough for many organizations to bar employees from accessing company documents on personal devices or on unsecured networks.
Using an enterprise mobile application in conjunction with mobile device management (MDM) allows your IT department to manage and safeguard your corporate network. But how does it work?
Experts at SearchMobileComputing say:
"Mobile device management relies on endpoint software called an MDM agent and an MDM server that lives in a data center (either on-premises or in the cloud).
IT administrators configure policies through the MDM server's management console, and the server then pushes those policies over the air to the MDM agent on the device. The agent applies the policies to the device by communicating with application programming interfaces (APIs) built directly into the device operating system."
– SearchMobileComputing, Mobile device management (MDM)

Allowing team members to access their email, calendars, documents, sprint timelines, and proposal plans from a secured device that is easily wiped and locked out of the network allows them to work when and where they need to.
With more and more companies adding benefits and "work where you like" perks, it is essential to have the tools to offer the same benefits in order to attract top talent.
Overeager enterprise mobile application development companies often make the mistake of taking on every bell, whistle, and feature a client requests.
Through years of experience and continued learning our Rootstrap team is confident in speaking up when we believe a client may be making a mistake or missing a key component.
At Rootstrap we are driven by the desire to put out the best product possible. Handpicked teams strive each day to expand their knowledge base problem-solving skills, constantly working to get and stay two steps ahead of any barriers in the hopes of creating the best product for you.
Targeting our discovery process to your specific needs and challenges allows for crystal clear communication and eliminates clutter in the development process. This robust discovery process allows our team to use all enterprise mobile application development tools at their disposal to hit each weekly sprint goal.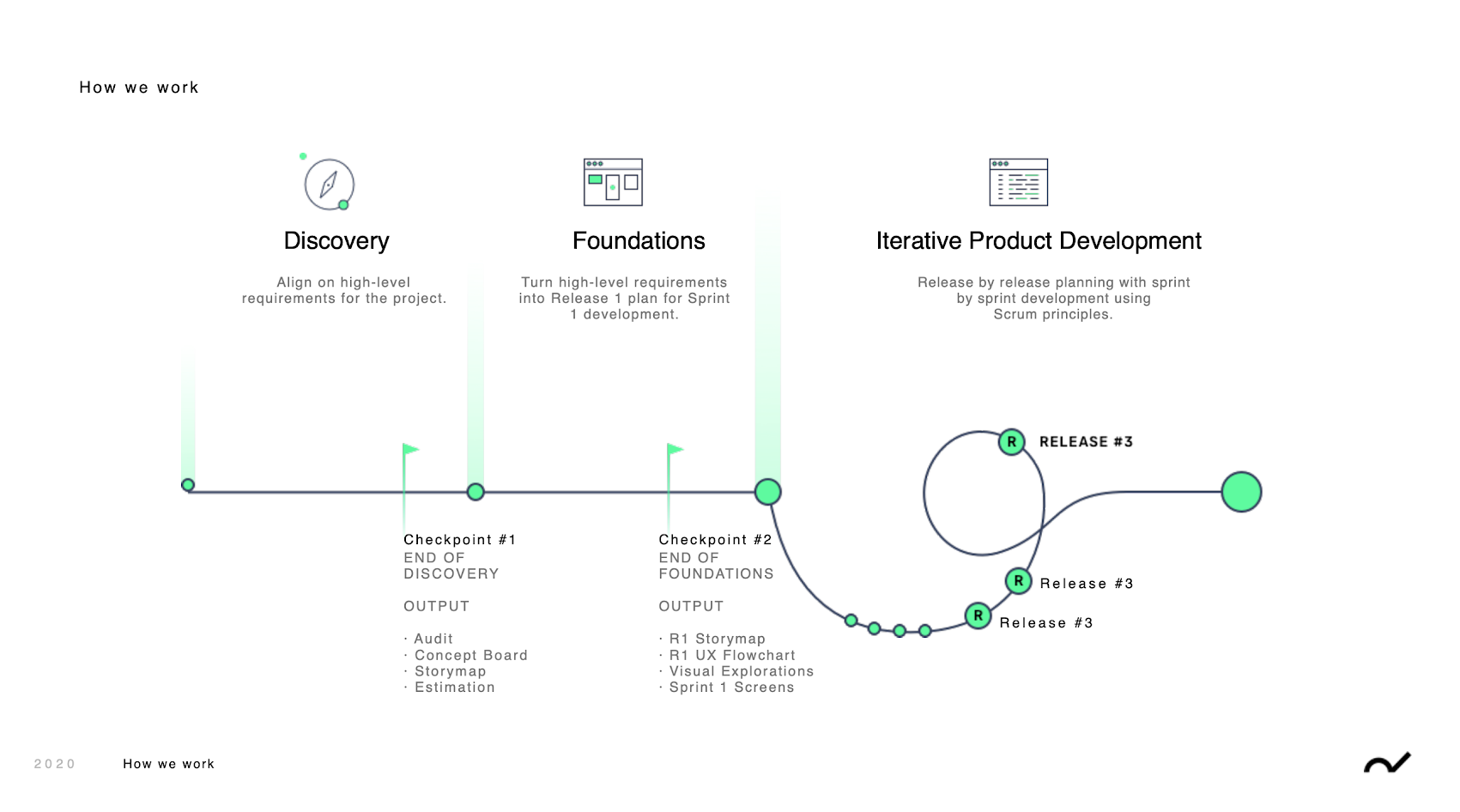 One of our main missions during discovery is to bring you pricing that is as accurate as possible. This part of the process is important.
Without a clear understanding of your needs, wants, and limitations answering questions like "how long will this take and how much will it cost?" is like asking how high your grocery bill will be that month. We can help, but we've got some questions.
Once an agreement is made we begin laying the foundation.
The Rootstrap production team will work with you to plan a Release 1 backlog, development will set up servers and lay the groundwork for a scalable product, UX and UI will refine the look and feel of your app, and accounts and access will be set up so you have complete ownership and access at all times.
Working in an agile environment means weekly sprint meetings to discuss and update you on the current status and next steps, along with reviewing design to make sure your expectations are met and there are no unexpected surprises.
Our development team is always available to answer any questions on the enterprise application development and mobile middleware frameworks process you may have.

"Rootstrap is completely dedicated and obsessed with delivering tangible business outcomes at any scale...speak to myself or anyone on the team and you'll see why our clients trust us with their mission-critical projects!"

New York, San Francisco & Buenos Aires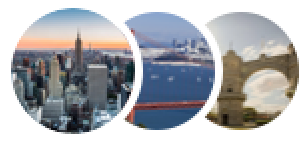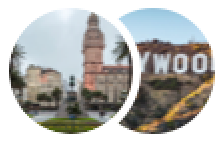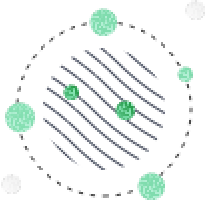 Combined value of our unicorns
and enterprise clients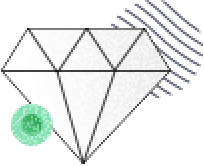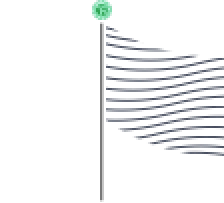 Rootstrap has partnered with Fortune 100 Companies like Epson & media moguls like Snoop Dogg & Tony Robbins to create some of the world's greatest apps.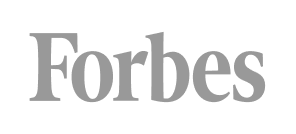 Rootstrap does away with the traditional model of blind guesswork. Think You Have a Million-Dollar App Idea? These Guys Will Be the Judges

Rootstrap builds mobile apps, websites, and other digital products for clients ranging from early-stage founders to Fortune 100 enterprise companies.
We are a full-service design and development team, as well as strategic partners to our long term clients. We are innovative digital masters who design, develop, and deliver world-class solutions that create meaningful growth and value for our community.
We've won 15 industry awards for our digital transformation process. Our client list features marquee names like Google, MasterClass, Tony Robbins, and Disney. We've helped launch more than 750+ digital products with more than 100 million combined downloads.