App Developers in Detroit - Your Idea Is Our Objective
Trusted by Fortune 500's and Public Companies


The Best Mobile App Developer in Detroit
The mobile app market is ripe for innovation – and at Rootstrap, we help you break in.
Rootstrap is a team of user interface designers, mobile experience architects, product development experts, and world class app developers serving clients of every size in the Detroit market. We work with everyone from first-time entrepreneurs to the biggest names in entertainment and tech, and we have a proven process for taking a mobile app from concept to growing company.
Ready to bring your idea to life? At Rootstrap, we do more than help you build an app: we help you build a business.
Our focus is to derisk your investment and deliver you a product that users will actually engage with. We've developed 250+ products for 500 founders with a combined revenue of 100m+. We battle-test every idea that we work on to make sure it can stand the test of time throughout market shifts and rends.

The Best Mobile App Developer in Detroit
It's been nearly a decade since we got started in the mobile app field, and ever since, we've been creating world-class mobile apps. From small emerging businesses to the biggest brands in the game, we've taken on just about every kind of mobile app development project you can imagine. We've built lean, single-function MVPs, massive enterprise mobile apps, experimental AR and VR installations, and anything else in the realm of today's (and tomorrow's) digital products. Clients ranging from Tony Robbins and Snoop Dogg to Epson and Google have trusted Rootstrap to deliver results - and that's because we know what we're doing.
Read More...
Our team of app developers serves the Detroit market, but we're a huge global team boasting more than 70 skilled app developers, product strategists, UI architects, and mobile experience masters that combine superlative technical savvy with age-old experience in both business and product strategy. Big, small, or in-between, we work with clients of all shapes and sizes. We've seen tiny, one-stop shops grow into wildly successful marketplace leaders, but we've also helped Fortune 100 companies implement software for maximum ROI. What this all means is that no matter your vision or company stage, if your app really takes off, we can act as a long-term partner because we have the resources to scale with and support your success.
Even more important, our key motif is to help you grow an app that makes an impact and sees that share of success we know you deserve. We're not new to this. We've overseen more than 500 successful product launches, and we've designed and built apps from the onset for world-renowned names. We bring that experience to bear on every mobile app development project we take on.
We do more than just develop apps, though. What we prioritize is a strategy where we help you ground both design and development. It's about clarifying the process to ensure the perfection of your vision, all grounded in base objectives defined by your larger business. We help you define and clearly map that out while simultaneously creating a mobile app that furthers your business objectives and creates genuine ROI.
For us, delivering on these objectives is a part of our app development methodology. We are Agile app developers all the way. Agile development is a framework that focuses on building functional software right from the beginning. Some other forms of development start by writing a comprehensive plan and building the product to spec, but that's not the Agile way. Instead, we focus on building a clean but functional program as fast as possible. Take it from us: this is the method that most guarantees your business seeing that ROI, both in the near future and the long run. The principles of Agile development are outlined in the Agile Manifesto, which is kind of like our worshipped text at Rootstrap. Here's the key breakdown of these guidelines:
Individuals and interactions over processes and tools
Working software over comprehensive documentation
Customer collaboration over contract negotiation
Responding to change over following a plan
So why use agile development? The answer is simple: because Agile development works. Here's a core truth of app development that any green business owner or first-time app founder may not yet know: the only way to build an app that succeeds on launch day is by involving real users early on, taking the time to tweak the concept and feature set based on genuine user feedback. Agile development helps engineers and businesses alike stay lean, which is important while building something people actually want to use. We're not the first app development company to think like this, and we're definitely not the last. Any good engineer will tell you the same. What does set us apart from our competition, however, is a little something we offer that furthers our business proposition past app development to business strategy. We call it Discovery. You're on a journey, we're the life raft



Aggregate Product
Downloads

Highest Company Valuation


Mobile App Design in Detroit
Discovery kicks in ahead of development. It has to do with the mobile design aspect of development, and it's a framework that's proven itself time and time again.
So, long story short - what is it, and what does it do? Simply put, Discovery is a pre-development product workshop. It's a small, low-risk engagement that we created with the sole purpose of helping you answer those big questions about your mobile app. It goes before development because these are questions you need to consider before you start building. Some of these questions are: who is this for? What benefit does it provide to users? How will it fare in the existing market? It goes on. Discovery is our golden, secret-ingredient way to de-risk your investment and produce that successful app that brings in quality customers, revenue, and user experience. Bottom line is, we aim to answer that invaluable question of "is this app worth building?" before we even start writing that code.
Read More...
Here's where it gets even more interesting: our app design process is different from most other app developers in Detroit. A majority of app development companies, both in Detroit and all across the U.S., cramp that discovery phase into a development cycle.
We don't believe that to be an effective way to ensure the final product is as good as it could be. We offer Discovery as a standalone service because we've found that across hundreds of product launches, this process is effective. The Discovery phase allows us as your business strategy team and mobile app developers to truly test the question of whether the app will work. So what happens if we find the answer is no? Better news for you, because it still allows us the time to pivot app directions and work with you to birth a better solution for what you're trying to create.
But we know how important it is to see numbers to back claims up. Our statistics to date on our Discovery speak volumes:
18% of past clients raised over $250,000 in pre-product seed capital
8% of past clients raised more than $1,000,000 in capital
Overall, Discovery alumni have raised $500 million in aggregate capital
What those numbers say is that Discovery is absolutely something you should do in order to make those app dreams come true. Hear it from the Tony Robbins himself:
"I reviewed the app and it's totally spectacular. The approach that you took and the guidance you provided throughout the Rootstrap process has been phenomenal. I'm looking forward to continuing as partners!"
– Tony Robbins, CEO

iOS, Android, Rails - You name it, we support it.

Help you flesh out your ideas and strategies

Strategy beyond the CMD line
We help clients with ideation, customer validation, launch plans, and beyond.

The Best Mobile App Developers in Detroit
We get it. There's so much that goes into choosing a mobile app development company. It's more than just liking the team you're working with - you have to trust that organization you invest so much time and money into. Choosing an app developer isn't like buying from a vendor: you're choosing someone that will help define the core of your product. You need to trust that team.
Luckily, you came to the right place. Our guys at Rootstrap are truly world-class. Our team includes more than 70 distributed full-stack engineers, and we're home to some of the brightest UI designers, UX architects, business strategists, growth hackers, and product ninjas in the business. We're more than capable of serving enterprise-level organizations as well as one-man businesses keen to scale up. Ultimately, we're equipped to grow as our clients do, and our distributed, worldwide team means we can work when you do – no matter the time zone.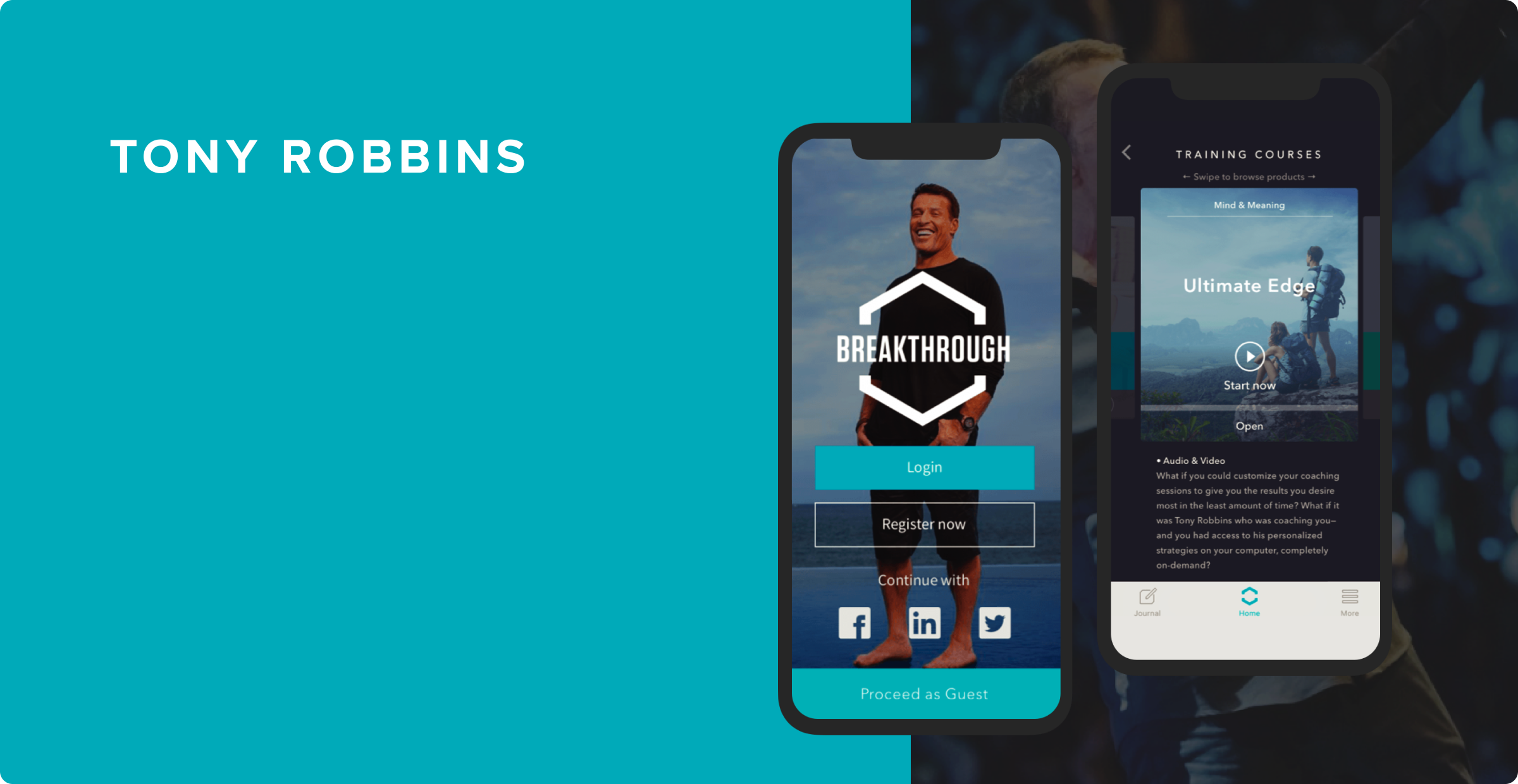 Rootstrap helped MasterClass build new features and double

their revenue
Rootstrap helped Tony Robbins digitize his coaching empire
Rootstrap helped MasterClass build new features and double

their revenue
Rootstrap Helped Globalization Partners achieve a 95% client satisfaction rate with mission critical software

Let's Build Something Together
To us, it doesn't matter if you have an existing product that needs an update, a multi-phase business plan, or just an idea on the back of a napkin – after all, we've seen multi-million dollar companies grow out of napkin sketches. If you have an idea, we're always up for a chat. So what are you waiting for?
Drop us a line and let's build something great together. What are you waiting for?