At Rootstrap, we take a different approach to mobile app development.
We focus our app development process on generating real, long-term ROI, working to build an app with your larger business objectives in mind. We are a global team of app developers, product badasses, interaction designers, and mobile experience fanatics helping entrepreneurs in Dallas and beyond build their mobile apps. If you have an idea and think a mobile app might be the right format for it, we'd love to talk to you.
Our focus is to derisk your investment and deliver you a product that users will actually engage with. We've developed 250+ products for 500 founders with a combined revenue of 100m+. We battle-test every idea that we work on to make sure it can stand the test of time throughout market shifts and rends.

Mobile App Development in Dallas, TX
Mobile app development is the core of our business, and we've been building world-class mobile apps for almost a decade. Our team boasts 60+ full-stack engineers spread all over the globe, and we've overseen the launch of more than 250 successful products in just about every industry under the sun.
But it's 2018 – anybody can build you an app.
We do it differently by focusing on ROI-driven development. We are not merely yes-people here to build everything to spec: we're consultants. We'll work with you to hone and tighten your core concept, and we'll help you build lean so you can achieve maximum growth on the smallest budget. We bring a vast experience in product development to our mobile app development projects, and we use that experience to help our clients create mobile apps primed for growth.
Read More...
In keeping with this, we're proud believers in Agile software development. Agile is a development methodology created in the early 2000s that focuses on building working software early on in development, as opposed to crafting a detailed plan and executing that plan to a T. In short, Agile is about getting a quick and dirty version of your app, getting it in front of users early, and refining the product based on user feedback.
The core principles of Agile inform every aspect of our organization, and they're best expressed in the Agile Manifesto:
Individuals and interactions over processes and tools
Working software over comprehensive documentation
Customer collaboration over contract negotiation
Responding to change over following a plan
We use Agile because, time after time, it's proven to be effective for us. Agile helps us develop better mobile apps and products because it keeps our focus on the only person that truly matters: the user. Agile lets us respond to new information as we learn, giving us the flexibility to pivot without sacrificing efficiency.
But this is all a little abstract. To understand Agile in practice, let's think about how you build a car.
In traditional development approaches like Waterfall, you'd start building a car by drawing out the plans. You'd carefully craft intricate drawings of every screw, nut, and bolt until you have an overview of a finished vehicle. Using that plan, you'd construct your vehicle, piece by piece, and assemble the finished product: a functional, finished car.
Agile takes a different approach. Agile starts by asking the question: what does this do? What is the core benefit this product provides to users? For a car, that benefit is movement. That means that the first step to building a car in Agile would be building a low-budget, quick and dirty product that successfully fulfills the core function of the product. Say, a skateboard.
Next, we iterate the product to something a little closer to the car, taking user feedback into account. For example, people may want an easier way to control steering and maintain balance. So we build a scooter. Another round of feedback and iteration, and we have a bicycle. And finally, we build a car – but this is a car that's built with the knowledge we gained from every previous iteration of the product. We know people want this car, because they've been telling us exactly what they want all along.
We've worked with everyone from Epson to first-time entrepreneurs out of Idaho, and every time, Agile proves itself to be one of the best ways to build products. Agile is the foundation of our mobile app development practice, and it allows us to be effective app developers in Dallas and around the world.
But don't just believe us. Hear what Tony Robbins had to say about our development process:
"I reviewed the app and it's totally spectacular. The approach that you took and the guidance you provided throughout the Rootstrap process has been phenomenal. I'm looking forward to continuing as partners!"
– Tony Robbins, CEO You're on a journey, we're the life raft



Aggregate Product
Downloads

Highest Company Valuation


Mobile App Design in Dallas, TX
Before we start development, though, we have to focus on mobile app design. We use a fairly unique process for this: Roadmapping.
Roadmapping is a pre-development product workshop that aims to explore some of the big questions before we build your app. In Roadmapping, our goal is to figure out who this app is for, what benefit it provides to them, and answer the biggest question of all: is this worth building?
You may have heard this from other Dallas app developers – but we do this a little differently. Instead of baking discovery into our app development process, Roadmapping is a completely standalone service for us. We offer a credit towards development, but for all intents and purposes, Roadmapping is its own service: once it's finished, you can take your deliverables and start development with us or with any other Agile app development company.
Read More...
Unlike most app developers in Dallas, we structure Roadmapping as its own, standalone service, completely separate from app development. We do this because we believe that a discovery process like Roadmapping is necessarily at odds with the app development process.
If you ask these questions simply as a precursor to starting development, it's almost inevitable that you'll only find the answers you were looking for in the first place. Structuring Roadmapping as a standalone service makes the process more honest: we can take the time to truly do the legwork, and if we discover that the app isn't a viable idea after all, we still have room to pivot.
Admittedly, Roadmapping is an unusual process for an app development company. Most app developers would rather head straight into development.
But again, we do this because it works. Just take a look at our metrics for Roadmapping participants:
18% of Roadmapping alumni raise over $250,000 in pre-product seed capital.
8% of Roadmapping alumni raise more than $1,000,000 in capital.
Roadmapping alumni have a 2,600% better chance at funding than the average startup.
In all, Roadmapping alumni have raised $500 million in aggregate capital.
We think those are some pretty good odds. If you want to develop a mobile app in Dallas, Roadmapping can help you perfect it and make sure you're investing in something that will succeed.
We break the Roadmapping process into 4 key phases
First things first – we have to understand what we're building. In the initial phase, we work to completely define your app concept. Not just what it does, but how it helps its users –the key value proposition it provides.
With the concept in place, we move into sketching. In this phase, our goal is to explore every possible solution and architecture we can think of. No idea is too obvious or too anodyne – it's all about moving through the solutions and features that won't work so we can get to the one that works the best.
Now it's time to bring the baby to life. With a detailed understanding of the concept and core value proposition in place, your app design team will craft a comprehensive, high-fidelity clickable prototype of your product.
Finally, we'll get you ready for development. Drawing on the work done in the previous three phases, your team will work with you to create a detailed product backlog: a comprehensive document that outlines every feature and functionality of the mobile app. We'll then help you groom and prioritize this backlog, outlining exactly what you need to build for v1.0 and all subsequent builds of the product.

iOS, Android, Rails - You name it, we support it.

Help you flesh out your ideas and strategies

Strategy beyond the CMD line
We help clients with ideation, customer validation, launch plans, and beyond.

The Best Mobile App Developers in Dallas
But who are we, anyways?
Rootstrap is a team of more than 70 app developers, app designers, UI/UX specialists, business strategists, product badasses, growth ninjas, and dreamers spread across three continents, all hell-bent on the success of our clients. We have over 60 full-stack app developers capable of rolling with the best of them, and more than 250 successful product launches have taught us how to help any client build an app that grows.
Read More...
We've worked with big names like Snoop Dogg and Epson, but we've also helped first-time entrepreneurs with no tech experience build multi-million dollar companies. We adhere to a rigorous standard of quality for the people we hire and the products we put out – and we bring all that to bear on every project we take on. And, because we're a large team, we can start you off with a small app development squad to suit your budget, then scale with you as your business grows.
,
And when it comes to app development chops, well, consider ours spoken for. We have experience in just about everything under the sun. Here are a few of the languages we speak:
Ruby On Rails Development
iOS & iPhone App Development
Android App Development
HTML5 Mobile App Development
HTML5 Web App Development
CSS Web Development
Augmented & Virtual Reality
Unity3D & Game Design
API Development
Swift
XCode
Objective-C
C+
C++
JQuery
JavaScript
Sass
Compass
But beyond just clean code, we provide clients with a partner they can trust. If we have a concern that we think might impede the success of your product, we will tell you – because our goal is to help you win, not just to take your money and build something. Our clients like us because we do things differently. Everyone on our team – from our CEO down to our most junior designer – is dedicated to upholding that standard.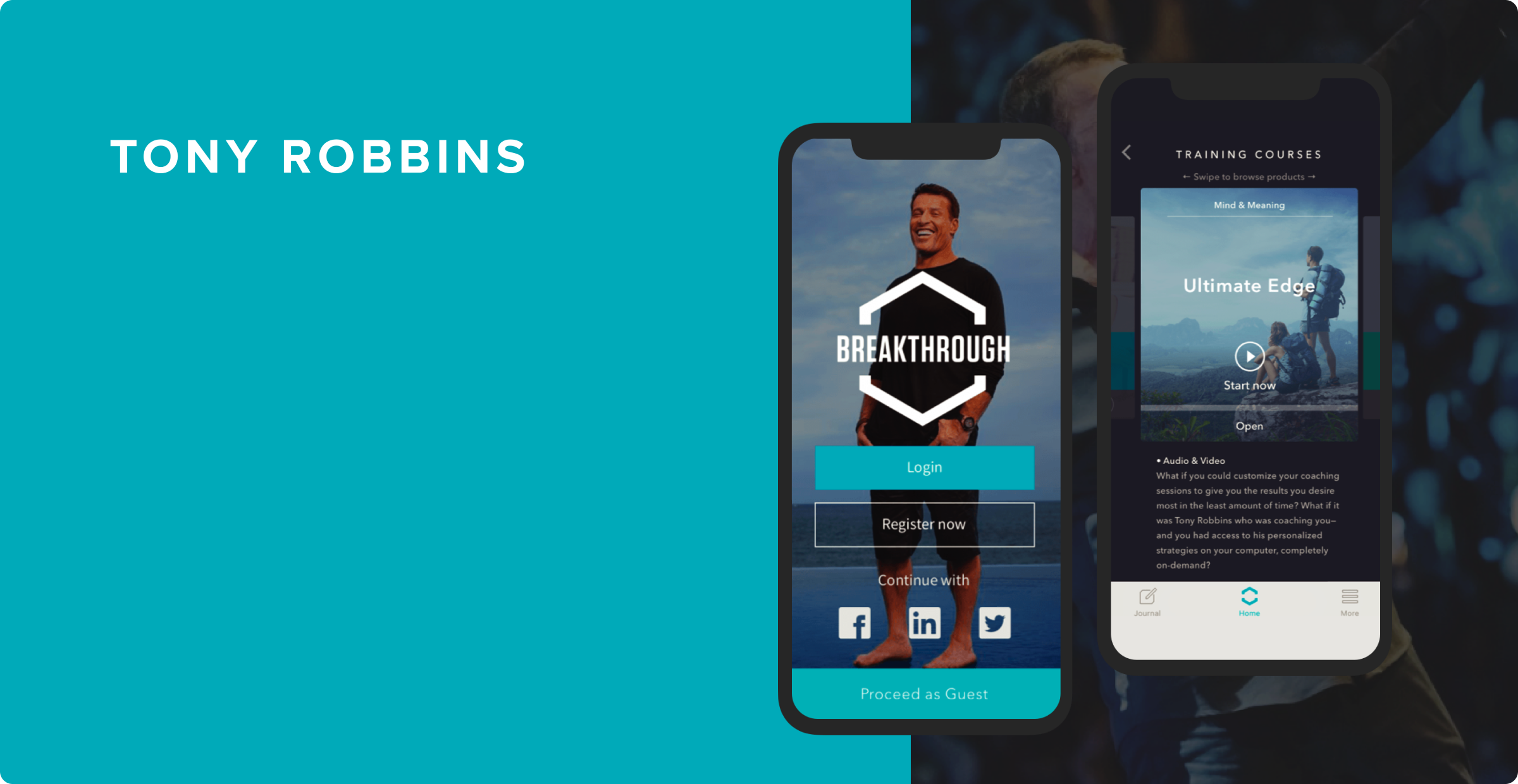 Rootstrap helped MasterClass build new features and double

their revenue
Rootstrap helped Tony Robbins digitize his coaching empire
Rootstrap Helped Globalization Partners achieve a 95% client satisfaction rate with mission critical software

Mobile App Development for iOS in Dallas
If you're launching an app in the Dallas market, iOS is probably one of your primary targets. At Rootstrap, we've built native iOS apps in just about every industry, vertical, or language you can think of.
So why iOS?
For starters, iOS apps are a juicy market. The App Store brought in $40 billion in revenue in 2017 alone, which eclipses the Google Play store's $20 billion in the same year. Apple also dominates consumer tech in most developed markets, so iOS has stronger market penetration in the US, North America, and Europe. That means that if you're developing your app to launch locally in Dallas, iOS is kind of like the home team.
Read More...
The app developers at Rootstrap can build you an iOS app that competes with the best of them. We have almost a decade of experience in native iOS development, and our app developers are wizards in Objective-C, C+, C++, Swift, and any other native iOS language you'd care to think of. If you can dream it up, we can build it for iPhone – but that's not to say we neglect Android app development.

Mobile App Development for Android

in Dallas, TX
As a general practice, we advise all of our clients to develop their app for both iOS and Android. But sometimes, lack of resources means choosing one to start is the best option. And while iPhone apps may get most of the glory, there are plenty of strong arguments for Android app development.
Firstly, Android generates more downloads worldwide. The Google Play store saw 64 billion app downloads in 2017, compared to the App Store's 28 billion. Similarly, user acquisition is cheaper on Android – this means you can build your user base faster and with less cash.
Read More...
Furthermore, the Android platform is more flexible for app developers. We can publish new apps and updates to the Google Play store in just 2 hours – compare that to the wait period for the App Store, which can range from a few days to two weeks. What this all means is that we can launch an Android app, collect data from users, and iterate the app in real time. For a new startup looking to hone its product, that's an attractive proposition.

Hire an App Developer in Dallas
Ultimately, there's no right answer here. Whether you choose iOS or Android – just like every other decision – depends on your specific idea and product strategy. That's why you need an app developer who's equipped to help you answer these questions in addition to building your app.
That's what we do. We offer not just full-service app development for the Dallas market, but a wealth of cross-disciplinary experience to help you build a business, not just a mobile app.
Drop us a line. We're very nice, and we'd love to chat – even if you just have an idea you want to talk over.
Who knows? Maybe that idea will change your life.
Maybe it will change the world. What are you waiting for?