App Developers in Phoenix
The mobile app market is ripe for innovation – and at Rootstrap, we help you break in.
Rootstrap is a team of user interface designers, mobile experience architects, product development experts, and world class app developers serving clients of every size in the Phoenix market. We work with everyone from first-time entrepreneurs to the biggest names in entertainment and tech, and we have a proven process for taking a mobile app from concept to growing company.
Ready to bring your idea to life? At Rootstrap, we do more than help you build an app: we help you build a business.
Our focus is to derisk your investment and deliver you a product that users will actually engage with. We've developed 250+ products for 500 founders with a combined revenue of 100m+. We battle-test every idea that we work on to make sure it can stand the test of time throughout market shifts and rends.

Mobile App Development in Phoenix
Mobile app development lies at the core of everything we do. Our team features more than 60 full stack software engineers spread across three continents, and we've built turnkey mobile app solutions for some of the biggest companies in the world as well as solo entrepreneurs. If you have an idea for a mobile app – even just a vague one – we can help you flesh it out, built it right, and start on the path to sustainable growth.
Read More...
But our goal is to go beyond pure implementation. We've overseen the launch of more than 250 successful products, and that experience has taught us what does and does not work in the mobile app market. Our mission is to build you a product that's designed to succeed, and that means we're constantly striving to ground the development process in your overall business objectives. Engaging Rootstrap for mobile app development means more than just hiring a bunch of great engineers – it means partnering with a team of business strategists you can trust.
We're also militant believers in an Agile development framework. Agile is a methodology for developing software grounded in producing a working product as early as possible in the development process. Formed in the early 2000s, Agile development is best understood through the core principles outlined in the Agile manifesto:
Individuals and interactions over processes and tools
Working software over comprehensive documentation
Customer collaboration over contract negotiation
Responding to change over following a plan
As a mobile app development studio, we're committed to Agile because we've seen it work time after time. Agile allows us the flexibility to respond to new information we learn during development, but keeps us efficient enough to develop on a lean budget. And as always, we strive to make every decision with a keen eye towards overarching business objectives. Our goal is to create real, meaningful ROI for our clients – and we structure every part of our mobile app development process to further that objective. You're on a journey, we're the life raft



Aggregate Product
Downloads

Highest Company Valuation


Mobile App Design in Phoenix
Mobile app development is our bread and butter – but mobile app design is where we really show what makes us unique.
In many ways, we made a name for ourselves through mobile app design. Years ago, we created a unique product development workshop – now called Roadmapping – that focused on evaluating and honing a product before rushing into development. Chiefly, the aim of Roadmapping is to answer a simple question: is this worth building? Only once we've completed the Roadmapping workshop and have a satisfying, data-backed answer to that question do we move into full development.
Read More...
So why do we go through the trouble of Roadmapping? Why not just start building a mobile app?
The power of Roadmapping is that it removes risk from the (significant) investment of mobile app development. Building a mobile app takes time and money – so you want to be sure that the app will fare will in the marketplace and provide a return on your investment. Roadmapping is a proven, comprehensive methodology for evaluating an app's chance at success before we start writing code. It lets us identify target user demographics, core value propositions, market positioning, and all the other variables before we start spending big money, providing a low-risk way to hone your product and make sure it's airtight for building.
But plenty of app developers in Phoenix offer some form of discovery service. What makes Roadmapping different?
The biggest difference is that we do not include Roadmapping as part of our development process. It's a completely separate engagement: it has its own billing structure, it isn't tied to development, and after roadmapping, you can take your deliverables to any Agile development shop – not just us.
We structure Roadmapping this way because it makes the process more honest. If you approach discovery as a precursor to development, you're likely to find the answers you're already looking for – namely, that yes, this is worth building. Offering Roadmapping as a separate, standalone engagement gives us the freedom to ask questions about the product in earnest. And, because the engagement is low-risk, there's still time to pivot if we decide the product isn't well-suited to the market.
But this is talk, and talk is cheap. We get that. Thankfully, our numbers back us up on this. Here are the real reasons we do Roadmapping:
18% of Roadmapping alumni raise at least $250,000 in pre-product seed capital.
8% of alumni raise at least $1,000,000 in capital.
This means Roadmapping alumni are 2,600% more likely to get funding than the average startup.
In all, Roadmapping alumni have raised $500 million of aggregate capital.
Roadmapping is the crown jewel of our mobile app design process, and the data say that it works. If you have an app idea, Roadmapping will hone the core concept, craft a feature set that serves core users, and help you design an app that makes real money.

iOS, Android, Rails - You name it, we support it.

Help you flesh out your ideas and strategies

Strategy beyond the CMD line
We help clients with ideation, customer validation, launch plans, and beyond.

The Best Mobile App Developers in Phoenix
But wait a minute – who are we, anyways? Mobile app development is a long, intensive process, and choosing an app developer is a little like getting married. You have to trust the people you're partnering with.
Thankfully, the Rootstrap team leaves nothing to be desired. We are a global organization of nearly 100 employees spread across three continents and multiple time zones. We're a team of app developers, mobile app designers, UI and UX architects, business strategy experts, product development gurus, and digital creative dreamers all fiercely dedicated to the success of our clients. We uphold a rigorous standard with the people we hire, and every member of our team is world-class and here to give you everything you need to flourish.
Read More...
And when we say rigorous, we mean rigorous. Our engineers and app developers can roll with the best one – we're comfortable in just about any language, with just about any technology, and in just about any industry you can name. Our experience of more than 250+ products ranges from the standard to the cutting-edge, from Fortune 100 to solo entrepreneur, from web to mobile to everything in between. If you can dream it up, we can pretty much build it – and we're happily fluent in all of the following:
Ruby on Rails
Swift
HTML5 Mobile App Development
JavaScript
JQuery
Sass
Compass
Android App Development
iOS App Development
Augmented & Virtual Reality
API Development
When you partner with Rootstrap, you're getting more than just an app development partner in Phoenix. You're tapping into a global team of experts with a pool of experience that runs nearly a decade deep and encompasses literally hundreds of successful products. Beyond just building your mobile app, we'll help you understand your target user, find the ideal market position for your project, and launch it the right way – so you're set up for sustainable, long-term growth.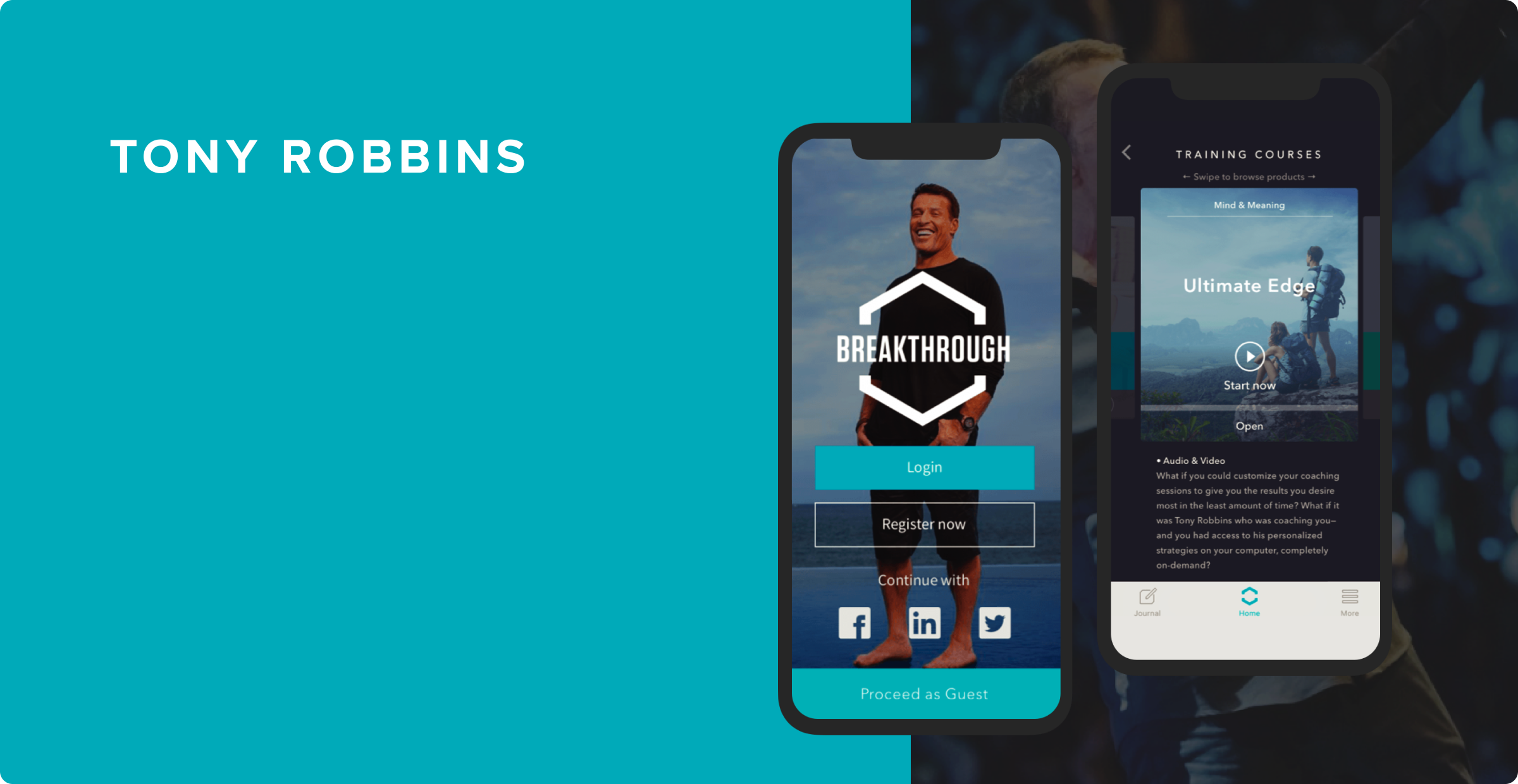 Rootstrap helped MasterClass build new features and double

their revenue
Rootstrap helped Tony Robbins digitize his coaching empire
Rootstrap Helped Globalization Partners achieve a 95% client satisfaction rate with mission critical software

Mobile App Development for iOS in Phoenix



If you're launching a mobile app in Phoenix, the iOS platform is an excellent place to start. There are plenty of reasons to develop your app for iOS, and while we always recommend both iOS and Android development, we also understand that sometimes resources are tight and you have to prioritize. So why iOS app development?
For starters, iOS apps are more lucrative. Apple's App Store generated some $40 billion in revenue in 2017, double the amount that came from the Google Play Store. Not to mention, that $40 billion came from about 28 billion downloads as compared to Google Play's 64 billion – which means that, on average, iOS apps make more money than their Android counterparts.
Read More...
Furthermore, Apple dominates consumer technology in the most developed, mature, and lucrative markets. iOS reigns supreme in the US, North America, and Europe, which are some of the wealthiest areas (and consequently, the juiciest markets) in the world. If you're launching your app in Phoenix, iOS is a good place to start.
That said, there are some downsides to only making an iOS app. Any way you look at it, the App Store is a less flexible platform for app developers. Apple retains full control over what goes on the App Store, which means they can reject your app at the last minute. They also require a review period of up to 2 weeks for new apps and updates, which can slow down the iteration process. These factors aren't always important, but they're good to keep in mind.
If you do decide to pursue app development on iOS, we're one of the best shops in the business. Our app developers serving Phoenix are masterful in C+, C++, Objective-C, Swift, and any other language you want to write in, and we are militant about our code quality. We'll build you an app that's bulletproof down to the very last semicolon – because that's how you create a product that's ready for growth.

Mobile App Development for Android in Phoenix
The App Store may generate more revenue than Google Play, but there are still plenty of strong arguments for developing on Android. In fact, we often launch our own internal products on Android before moving to iOS. From an app developer's perspective, the Android platform offers one of the most effective options for launching and iterating your product on a budget.
Why? Android is more flexible. The Google Play store still has requirements, but they're less restrictive than Apple's – and we can publish updates to Google Play in a matter of hours instead of days. This all means that the process of iterating and changing your app is much faster on Android, allowing us to improve the product faster. For early stage startups looking to hone their product, this is an attractive proposition.
Read More...
User acquisition is also cheaper on Android. This means new businesses can acquire a user base faster and for less money on the Android platform, which is a great thing if you need to show traction to potential investors. Often, we've seen startups have success by launching their app on Android, building traction, then raising more money for iOS development. If they can do it, you can to – and the Rootstrap team will stand by you and scale with you as you grow.
Thinking globally, Android is also better positioned for growth than iOS. While Apple dominates North America and Europe, Android is the major player in virtually every other market, including fast-growing markets like Latin America and China. Over the next 5 years, this puts Android apps in a better position for global growth than iOS apps – so if you want to build a global empire, Android might be your best bet.
At Rootstrap, we'll help you build your Android app fast, launch it right, and keep it growing. We've built and launched countless apps on the Android store and we know what it takes to iterate and grow a product. Ready to get started?
So are we.

Find App Developers in Phoenix
Of course, there are no right answers to any of these questions. Choosing iOS or Android, just like every other decision in app development, depends entirely on the concept of your app, your target user, and your go-to-market plan. Thankfully, working with Rootstrap means you get a partner prepared to help you make those decisions.
We've helped everyone from Tony Robbins and Snoop Dogg to first-time entrepreneurs with no tech experience build beautiful, successful mobile apps. If you have an idea for one, we would be honored to do the same for you.
Go ahead – give us a call. We promise we're very nice people. And even if you just have an idea, we'd love to talk it over with you.
Some of the biggest companies in the world started as little more than a quick chat between friends.
Drop us a line. Maybe our quick chat will turn into something much, much bigger. What are you waiting for?