App Developers in Houston
Rootstrap is app development done differently.
We combine technical proficiency as app developers with a deep understanding of business strategy, providing a service that goes beyond pure mobile app development. We're like your startup in a box: we'll help you hone your idea and validate it in the marketplace, ensuring that your concept and go-to-market strategy are sound – and when that's in place, our team of full-stack app developers will execute your vision and launch your app to dominate the Houston market.
Ready to take your mobile app live in Houston and scale it to a global user base? We're here to help you do it.
Our focus is to derisk your investment and deliver you a product that users will actually engage with. We've developed 250+ products for 500 founders with a combined revenue of 100m+. We battle-test every idea that we work on to make sure it can stand the test of time throughout market shifts and rends.

Mobile App Development in Houston
Mobile app development is at the center of our DNA, and while we do much more than develop apps, it's still a core element of our business. But we focus on taking a different approach to app development.
At Rootstrap, we focus on understanding how a mobile app fits into and advances a larger business. Before we start development, we seek to establish detailed insight into your larger business model – whether you're launching a business with your app or using mobile to expand and reach new customers. We structure the app development process over what will produce the most long-term ROI, drawing on years of experience in business strategy to craft an app that's primed to create real returns for your business instead of just get clicks.
Read More...
In keeping with that mindset, we're firm believers in Agile mobile development. Agile is a framework for software development pioneered at the turn of the 21st century that prioritizes a build, test, and iterate mindset. With Agile development, our goal is to get working software as quickly as possible so we can learn from our users at the beginning of development instead of the end. The core principles of Agile are outlined in the Agile Manifesto, a document that's deeply impacted every part of our ethos at Rootstrap:
Individuals and interactions over processes and tools
Working software over comprehensive documentation
Customer collaboration over contract negotiation
Responding to change over following a plan
We practice Agile because it works, and because time and again, we've found it the best approach to creating products that people want to use. Whether you're a one-person startup launching an app for the first time or a global enterprise corporation seeking to enter new markets, Agile, iterative development helps you stay lean, do more with less, and generate real growth for your business. You're on a journey, we're the life raft



Aggregate Product
Downloads

Highest Company Valuation


Mobile App Design in Houston
Before we can build, we have to design. And at Rootstrap, that's our specialty.
We made our name from an innovative approach to mobile app design: Roadmapping. Roadmapping is a standalone, pre-development product workshop that focuses on answering the core questions surrounding your app before we start building. We want to make sure that the idea is sound, the market is ripe, and the app is worth building before we start development.
Read More...
Lots of app developers in Houston and globally offer some kind of discovery service as part of the app development process, but we choose to offer it as a standalone service because we believe that's a more successful model. The truth is, there's no way to know if an app is worth building based off the idea alone. It takes a dedicated, concerted effort to find out if the core value proposition is strong enough, if the market will bear the product, and what exactly we need to build to satisfy users. Roadmapping answers all of these questions in a 2-4 week time frame and for a fraction of the cost of development – so when it is time to build for real, you know you're ready.
We structure the Roadmapping workshop in four phases:
Define: First, we need to get absolute clarity on what it is we're building. We'll take a deep dive into the concept of your product, exploring the key value offering, the potential user demographics, and the state of the market you're entering. This prep work prepares us to make informed decisions as we move through the design and development phases.
Sketch: With the idea nailed down, it's time to answer the question of how. Our mission here is to explore every possible solution to the problem – every screenflow, every business model, and every potential way we could deliver value to users. Nothing is too outlandish here. We want to work through all the zany ideas so we can find the one that's innovative and effective enough to succeed.
Prototype: After deciding on the core functionalities and architecture of your app, we're ready to make a prototype. This is like a clickable, fully-designed model of your mobile app: there's no functional code, but it demonstrates the look, feel, and central concept of the app. You can use your prototype to test with users, get feedback on the product, and showcase your idea to potential investors.
Refine & Prep: In the final phase of Roadmapping, we get you ready for development. We'll create a detailed backlog of features for the app, then organize them into what's necessary for the MVP and subsequent releases. This is a process called grooming, and it can save you tens of thousands of dollars in development money – in fact, we've slashed dev budgets in half after just an hour of backlog grooming.
Mobile app design is one of our strong suits at Rootstrap. While our app developers can hang with the best of them, where we really create value for our clients is in bringing a tactical approach to the development process. Maybe that's why our Roadmapping participants are statistically 2,600% more likely to secure funding than the average startup.

iOS, Android, Rails - You name it, we support it.
Help you flesh out your ideas and strategies


Strategy beyond the CMD line
We help clients with ideation, customer validation, launch plans, and beyond.

The Best Mobile App Developers in Houston
Of course, all of that doesn't mean we don't believe in pure development muscle. We've got plenty of that.
The Rootstrap team is a distributed, global network of nearly 100 app developers, growth specialists, UI and UX architects, and product strategists all hell-bent on the success of our clients. When you work with Rootstrap, you're getting access to a scalable workforce of more than 60 full-stack engineers – so no matter how much your business grows, we'll grow right alongside you. And because we're a distributed team, you're getting a development partner that works when you do – and keeps working when you're off the clock.
Read More...
When you partner with Rootstrap for mobile app development, you're in good company. We've worked with everyone from no-name kids out of Idaho to multinational, Fortune 100 corporations. Our client list includes entertainment big-shots like Snoop Dogg and Tony Robbins, enterprise companies like Epson and Spotify, and Roadmapping success stories like FanBread – which means you're joining a pretty successful cohort of businesses. And with more than 250+ successful product launches under our belt, we bring a wealth of experience that spans across industries and continents to help your app be as successful as possible.
Working with Rootstrap means getting more than just a mobile app developer serving the Houston market: it means getting a competent, experienced partner you can trust to build your app and launch it in Houston, then scale it to a user base that spans the globe. No matter the industry or the vertical, we're dedicated to seeing you succeed.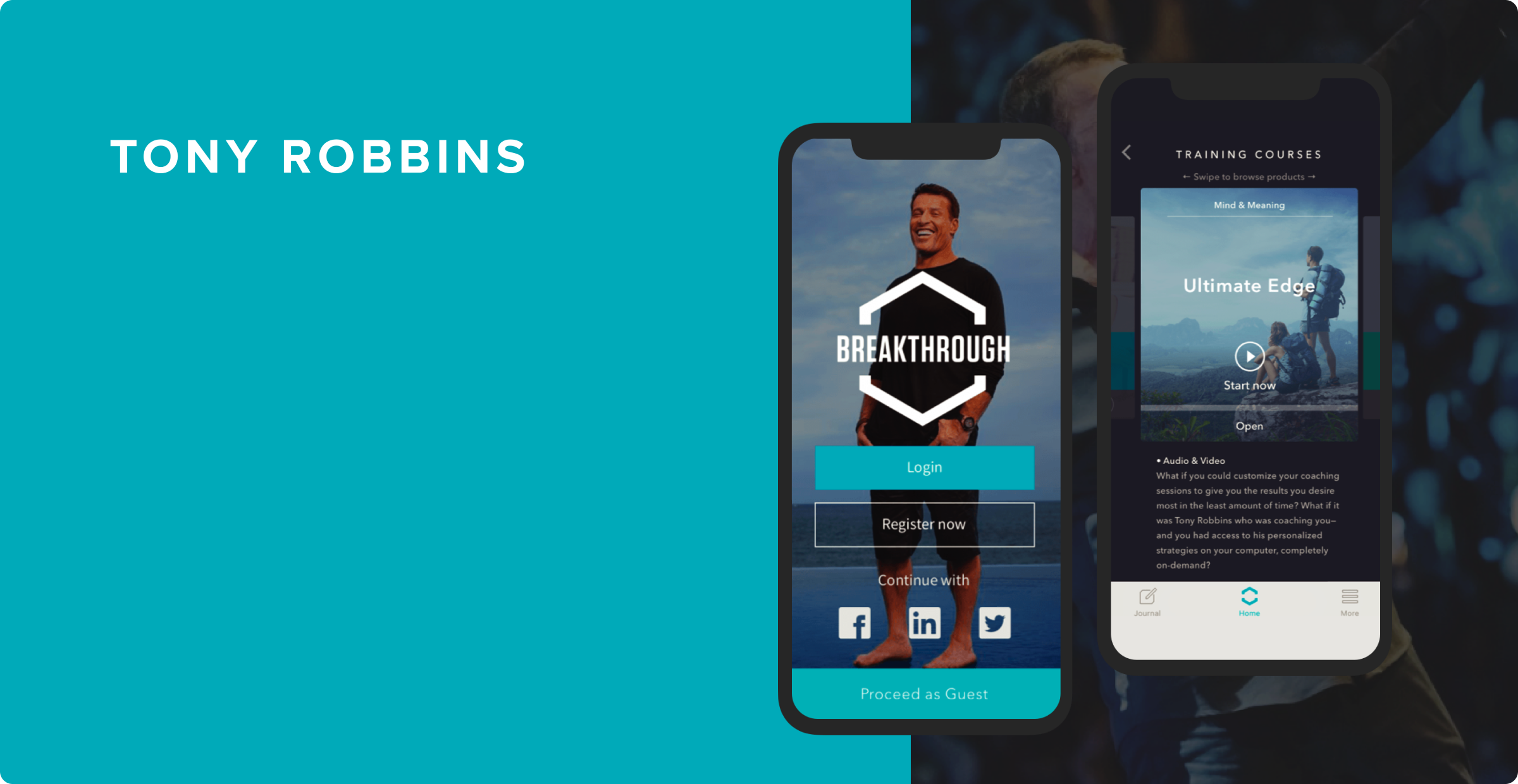 Rootstrap helped MasterClass build new features and double

their revenue
Rootstrap helped Tony Robbins digitize his coaching empire
Rootstrap Helped Globalization Partners achieve a 95% client satisfaction rate with mission critical software

Mobile App Development for iOS in Houston
Why build an iOS app?
The list of reasons is almost endless – and if you're launching your mobile app in Houston, it makes even more sense. Apple's iPhone dominates many of the most mature, lucrative markets in the world, including Europe and the US. That means that if you want to succeed with a mobile app in Houston, TX, working with an iOS app developer is a great place to start.
Read More...
iOS mobile app development may also be the most lucrative option financially, as well. In 2017 alone, the Apple App Store generated almost $40 billion in revenue – nearly double the $20 billion from the Google Play store, which serves Android phones. This probably has to do with Apple's domination in mature geographic markets like the US – app consumers in these regions have more money to spend on mobile apps, making iOS apps easier to monetize.
If you're ready to bring your app idea to life on iOS, we can make it happen. Every app developer on our team is fully proficient in Swift, C, C++, and Objective-C, meaning we can build a responsive native iOS app that feels incredible on Apple devices. We also have a wealth of experience building apps and getting them featured by Apple, so we'll work with you to strategize your product design and maximize your chances of getting featured on the App Store.
We've built iOS apps for some of the biggest names in tech and entertainment, and we bring our experience and passion to bear on every project we take on. App development is a huge investment – you need a partner you can trust. We'll help you build an app that isn't just technically sound, but designed – from the outset – to generate an ROI for your business.

Mobile App Development for Android in Houston
Apple may get more of the spotlight, but there's plenty to be said for Android app development in Houston. We always recommend launching on both platforms, but if money is tight, building your app on Android can be an excellent way to test your product and grow your user base on the leanest budget possible.

Read More...
This is because on the whole, Android is a more flexible platform. The Google Play store lets us publish apps and updates in just two hours, making it must faster and easier to change than the App Store, which requires a review period lasting from a few days to two weeks. This increased speed effectively lets us go through the iterative development process faster. We can launch the v1.0 version of an app, collect data from users, than implement changes based on that data in real time – meaning we have a stronger ability to fine-tune the app from real user feedback.
User acquisition is also much cheaper for Android apps. This means that if you're launching a business for the first time and need to gain traction without a large capital investment, Android makes that easier. Once you build more brand recognition and a larger user base on Android, it'll be easier to raise funding for development of an iOS version. It's a strategy we've seen work more than once.
Finally, Android offers a larger market in terms of downloads. In 2017, the Google Play store generated 64 billion downloads globally, more than twice the App Store's 28 billion downloads in the same period. Plus, Android has a stronger market position in emerging markets like Latin America and China. This means it's better-poised for growth over the next 5 years, and developing on Android positions you to capitalize on that growth.

Work with a Houston App Developer Today
Ultimately, the platform you choose depends on the specifics of your app concept, target market, and larger business model – and thankfully, working with Rootstrap means you get help considering all of these factors. Our focus on ROI and our experience in business strategy makes us uniquely equipped to be more than just an app developer – we can act like a comprehensive mobile app consultant.
If you're ready to start the process and see what your mobile app could really be, the Rootstrap team would love to speak with you. We've helped entrepreneurs from all over the country build mobile apps and scale businesses to millions in revenue, and we would be thrilled to help you do the same. And it all starts with a phone call.
So drop us a line. We don't bite. We're always looking for new projects, and even if you're just working with a few ideas scrawled on a napkin, we'd love to talk them over with you.
Who knows – this could be the phone call that changes your life.
Or the one that changes the world. What are you waiting for?